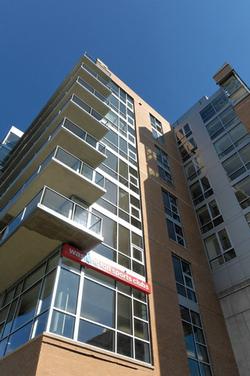 What: Adagio Condos
Where: 6820 Wisconsin Avenue, Bethesda
Number of Units: 92
Floor Plans and Sizing: There are 14 different floor plans—one-, two-, and three-bedroom units—ranging in size from 896 to 2,100 square feet.
Prices: $599,000 to $1.6 million
Luxurious Touches: All units have floor-to-ceiling windows, private terraces or balconies, hardwood floors, and kitchens with granite countertops and stainless steel appliances.
Perks: There's a fitness center with weight and cardio equipment in the building, but Adagio residents also get memberships to the 35,000-square-foot Washington Sports Club next door.
Location: On the corner of Wisconsin Avenue and Bradley Boulevard, six blocks from the Bethesda Metro stop and steps from Bethesda Row's restaurants and shopping.
Number Sold: 53 units
More>> Open House Blog | Homes | Real Estate
More>> Open House Blog | Homes | Real Estate