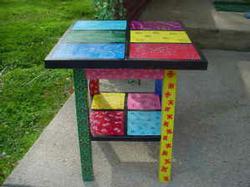 This funky side table, available for $40 in Fort Belvoir, could be a fun addition to a kid's room. It's hand painted with bright colors in a patchwork pattern with stars, dots, and flowers. You could pair it with a lamp, like this one ($10), and use the bottom shelf for books.
Other good finds:
• A rug with blue flowers from Pottery Barn for $350.
• A cherry-finish coffee table with glass top for $100.
• A boat-shaped bookshelf—with oars!—for $85.
• A brushed-metal chandelier with frosted-glass shades for $78.
Thanks, Craig!