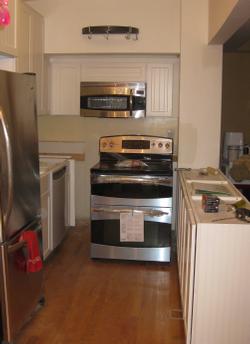 This was a week of snafus and surprises. It probably isn't a coincidence that this was also a week of big-time progress—the kitchen looks like a kitchen again! All of the cabinets, except one, are installed. I have started to fantasize about my first big meal once it's all done. My living room is beautifully lit, and looks much larger than it did a month ago.
A part of me wants to scream from the rooftops how excited I am, but in the interest of full disclosure I will present The Week of Problems:
1. The electrician. I hired the electrician separately—just like I bought all the paint and appliances separately—to save money. He came over after demolition, moved a light switch, capped off several outlets, hung a chandelier, and presented me with a humongous bill. When my contractor started putting the kitchen back together, he said the electrician was supposed to check the power for the dishwasher and microwave, and that he would probably have to add new lines for those appliances. He called the electrician, who was on vacation. Electrician says, "Nobody told me." Contractor says, "He should have known." So now my new appliances are sitting around looking pretty instead of washing dishes or cooking food.
2. The countertops. From the beginning, I have been set on wood countertops, and I was delighted to find that I could buy them crazy cheap from Ikea. Early last week my contractor tells me that Ikea only makes wood countertops 25 inches wide—my kitchen requires 15-inch counters. Am I okay with five inches hanging over on each side? Not so much. Now, my contractor is going to cut them himself and hope for the best.
3. A leak. After removing the old range hood, we found mildew and some water behind the wall. The building manager checked it out and declared it condensation from the air conditioner, which we fixed with a small strip of insulation. Easiest snafu yet (if he is right about that).
4. The drawer. A minor inconvenience of my old kitchen was that one of my drawers was blocked by the handle of the oven. I had to open the oven before I could open the drawer. It wasn't even close to my biggest complaint—I just filled the drawer with stuff I rarely needed. Still, I went out of my way with the Home Depot designer to make sure that the new drawer would have enough space to open. And, whaddya know, the drawer is blocked by the oven. Again. My contractor suggested that I swap the oven with the cabinet to its right to solve the problem, but it just didn't look right to me. So, again, I have a drawer that won't open if the oven is closed. In my brand new kitchen. Argh.
Dealing with little problems is tougher than I expected. You are paying gobs of money—undoubtedly more than you thought you would pay— and you feel like that entitles you to a lovely, luxury experience that ends with a perfect renovation. When that starts to go awry—and it always starts to go awry—you want to be treated as if a waiter at a fancy restaurant just dumped a tray of wine in your lap.
But no, that is not what happens. My contractor is very nice and creative, and he is happy to try to find a solution. But generally his response to a problem is, "I'm not a designer—I'm just following your plans."
Of course, that is true. The designer was at Home Depot, and this is basically why it saves money to split up the job: You lose accountability. When I called to order a new cabinet and asked about the return policy, I found out that they would keep a whopping 25 percent because of a restocking fee. The designer passed the buck back to the contractor and said, "Well, this is why we made sure your contractor had the plans—so that he could check them."
The last layer is that you have to maintain a good relationship with your contractor. If the person building your kitchen hates you, he is going to do the bare minimum. Plus, your contractor is in your home all day, every day. I talk to him more than I talk to my best friend or even by boss. So, obviously, I want those interactions to be pleasant.
At the end of the day, you have to skip the blame game and accept that you are going to pay for a few things that seem unfair. This doesn't mean I don't stand up for myself, but it does require a delicate balance.
But guess what? My kitchen looks awesome!