Biker Chic(k)
This fall, pair your fashionably flowing maxi-dresses from summer with this season's trendy biker-inspired leather jackets for a combination that will go together better than hippies and Hell's Angels. Biker-chic jackets are cropping up in designer collections all across the board, from Dolce & Gabbana to Marc by Marc Jacobs to Juicy Couture. Whether zippered, studded, or both, these jackets will make even the girliest girl ready to channel her inner motorcyclist and roar off into the sunset. And don't worry if your cash is a bit low—these jackets go perfectly with clothes you probably already own, like feminine dresses from summer, tailored pants from work, and regular old blue jeans.
Splurge: This beautiful black lamb-leather jacket by Juicy Couture has a Peter Pan collar and front zipper. The puff sleeves are three-quarter length, which along with the button-flap details give this jacket a feminine feel. At $748, the jacket is a splurge, but what better to splurge on than a jacket that can be worn with everything? It's $748 at Bloomingdale's (5300 Western Ave., Chevy Chase; 240-744-3700) or Neiman Marcus (5300 Wisconsin Ave., Chevy Chase; 202-966-9700); juicycouture.com.
Steal: Adorable and cruelty-free, this pleather jacket will make you wonder why you haven't shopped at Delia's since you were 12. The Ashton Pleather Jacket also has three-quarter sleeves, but the asymmetrical front zipper and diagonal zipper pockets give it a funky look that even a Hell's Angel could appreciate; $69.50 at Delia's (Tysons Corner Center, McLean; 703-827-5740) or delias.com.
Military Mama
Get all buttoned up this fall in these chic military-inpired jackets. Their structured designs and details—from brass buttons to shoulder epaulets—can pull together any outfit in a pinch. There are so many fashionable options in such a wide range of prices, you'll want to stand and salute.
Splurge: Derek Lam brings you this stunning black vintage military jacket in felt and double-faced twill sateen. The jacket features double-breasted buttons as well as a front zipper and front flap pockets; $1,990 at Neiman Marcus (5300 Wisconsin Ave., NW; 202-966-9700; neimanmarcus.com).
Steal: Recreate the Derek Lam military-inspired look with this gray Silence & Noise Cropped Band Jacket, which has a simple, sophisticated design. The double-breasted soft-wool coat is cropped with a five-button closure in front. Detailing such as shoulder epaulets and a button tab in the back finish off this trendy look. The price will leave you with a enough cash to buy the rest of the uniform—skinny black riding pants and ankle booties; $88 at Urban Outfitters ( 3111 M St., NW; 202-342-1012; urbanoutfitters.com).
Mad for Plaid
This fall, have yourself a little highland fling as plaid leaves its home in Scotland and kicks up its heels on runways in New York. Designers such as Ralph Lauren and Dolce & Gabbana gave plaid the spotlight in their autumn collections, using it in a variety of fabulously unexpected colors and combinations. Coats, shirts, skirts, and even tights bore their tartans proudly in looks where fashionista meets country aristocracy. These trendy plaid jackets not only will keep you warm on Washington's streets and a cold highland hill; they'll also make a trendy statement.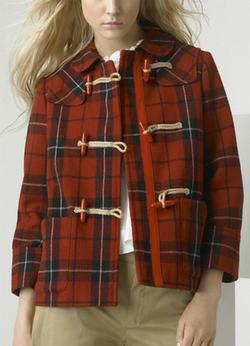 Splurge: This See by Chloé bright plaid jacket has toggle fasteners and a swingy silhouette. The wool will keep you snug, and the pattern and shape will show that you're fashion-forward. Pair it with jeans or a black skirt for a more conservative look or, for the style risk takers out there, with another piece of plaid. It's daring but, if done well, très chic; $795 at Nordstrom's (1400 S. Hayes St., Arlington; 703-415-1121; nordstrom.com).
Steal: Forever 21 is a great place to find designer-inspired clothing at hard-to-beat prices. This swing-cut coat in a red plaid pattern with three-quarter sleeves and a hood is perfect for this fall. Only $34.80, it's a great buy that allows you to incorporate plaid into your wardrobe without breaking the bank. You may even have enough money left to buy one of the store's cute plaid dresses to go with it; $34.80 at Forever 21 (1100 S. Hayes St., Arlington; 703-415-4121; forever21.com).
More>> Shop Around Blog | Style | Find a Spa