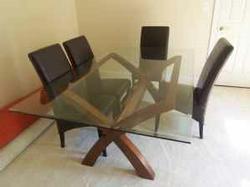 This glass-top dining table is available for $1,750 in Bowie. The sleek design is simplistic and modern, and the wood legs give it a traditional touch. The table comes with six chocolate leather chairs. The seller says he purchased the set for $3,500 from Casa Nostra in Georgetown.
Other good finds:
• A side table with extension leaves for $75.
• A nine-drawer mahogany-stained dresser for $150.
• A pair of chairs made from Yugoslavian pine for $600.
• A glass-top breakfast table with four chairs for $350.
More>> Open House Blog | Homes | Real Estate