Okay, so rangefinders can't read the breaks and contours of greens, but they'll give you accurate distances to any target, whether it's a tree or the flag. Because golf is a game of precision, it's no wonder these new gadgets are the hottest golf accessory in any golfer's bag. With a few golfing days left in the season and the holidays sneaking up on us, here are a couple of rangefinders you may want to get for yourself, your husband, your father, or whoever the golf nut is among your friends or family.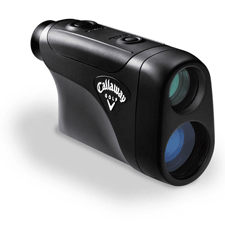 Splurge: Callaway LR1200 Rangefinder Tournament Caddy by Nikon ($499.95)
If you're a serious golfer, the Callaway LR1200 Rangefinder Tournament Caddy by Nikon is for you. With the LR1200, the flagship of the Callaway rangefinders, you're guaranteed not just one accurate measurement but multiple: It's capable of measuring different targets in succession by keeping the button pressed for 20 seconds. So if you need the distance to the front-side bunker and the back of the green, you can get it in one shot. It's also waterproof, it fits well in the palm of your hand, it features an LCD display screen with backlight, and it's easy to use because all you have to do is point and shoot. Furthermore, with Nikon camera technology, you get a high-eye point design, which means your eye can be farther from the viewfinder and still be able to see through the lens, which is great for people with glasses. With a range of up to 1,200 yards, the LR1200 is definitely worth its $499.95 asking price. www.callawayrangefinders.com/lr1200.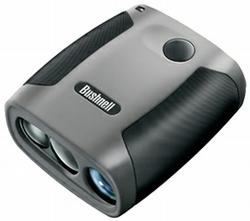 Steal: Bushnell Yardage Pro Sport 450 Rangefinder ($130 to $240)
Although the Bushnell Yardage Pro Sport 450 Rangefinder isn't specifically designed for golf, you can still use it on the golf course. Bushnell is known for its excellent measuring devices, and even though this model isn't in its golf line, it's easy to use and will still give you accurate readings to flags from up to 200 yards away and trees from up to 450 yards away, and it fits well in your golf bag. It's listed on shopbushnell.com for $240, but you can find it at other Web sites for up to $100 dollars cheaper. For the not-so-serious golfer who still likes to know his/her distances, this is a great deal. www.shopbushnell.com.
More>> Shop Around Blog | Style | Find a Spa