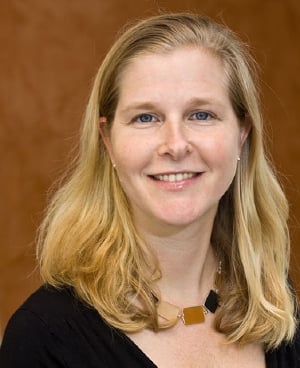 Leigh before her makeover. Photograph by
Chris Leaman
Leigh Mayrhofer, 34.

Assistant principal at a school in Woodbridge, on maternity leave.
Why she wanted a makeover:

As a surprise, Leigh's husband, Tom, nominated her for a makeover after she had twins in August. "I think a makeover would be a wonderful way to help her feel better about herself as she recovers from pregnancy," he wrote. When we told Tom we'd chosen Leigh as a makeover candidate and he passed the news along to his wife, she was thrilled. Four months after becoming a new mom to Brandon and Leyton, Leigh was eagerly looking to trade her go-to ponytail for something more stylish but still easy to do. She has very little time for herself, especially when it comes to primping in the bathroom. "I definitely take less time taking care of myself, with them being so young."
Date of her last haircut:

February 2008.
Reaction when she found out she was getting a Washingtonian.com makeover:

"I was, of course, surprised because my husband submitted me without me knowing, but he knew this would be something I'd enjoy. I assured you all after having the babies in August that I'd be a great 'before' candidate. I was delighted to be chosen—to have the opportunity to let talented professionals help me try to look my best. It was fun to turn all decision making over to them."
What she likes and dislikes about her current look:

"I think it's natural, and it's been easy for me to maintain," she says. But on the downside, it's pretty much the same style she had in college. "I was ready for something a little different and ready to get some expertise in choosing a hairstyle and cut."
How she wants to look afterward:

"I'd like something that looks current but not overly styled and something that I can do with ease whether I let it dry on its own or want to blow dry it and have a more styled look. If I were to go out to dinner, I'd want to make it look polished, but it could look more natural during the day."
Read on to see Leigh's transformation after the jump!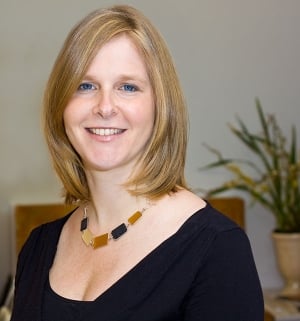 Leigh after her makeover. Photograph by
Chris Leaman
Where we sent her:

Salon One80 on K Street. Rémi Metsu, a 20-year Washington hair veteran who was named top stylist in DC by Allure, manned the shears; Jeremy Buchanan presided over the coloring. Jeremy, co-owner of the salon, says keeping the client's perspective in mind is One80's first priority: "We have to figure out what's conservative and what's avant-garde not through our own eyes but through the eyes of our customers."
Jeremy's impression of Leigh's "before" look:

"She had really no shape, so to speak. It was really close to one length. It was a cut that was easy for her to pull back because she's a mom. I feel like she wanted to have more style than she had, but she was also very realistic about the time that she'd have to put into her style. I felt the desire to be more fashionable and more current."
What they did:

For the cut, Rémi took Leigh's one-length style and gave it new life with layers. The new shape released some weight from Leigh's hair so her natural body could shine through, but there was still enough heft at the bottom to keep her locks from looking stringy. On busy mornings, Leigh can let her new do air-dry and enjoy her natural wave; for days when she has a few extra moments, Rémi showed her new techniques for blow-drying. With Leigh's time limitations, the stylists say giving her a wash-and-go cut was the most important thing.
For the color, Jeremy added warmth to Leigh's hair, which hadn't been previously colored. "The paleness of her skin suited any kind of warm color," he says, "which was great because her natural hair color already had a bit of warmth to it." Jeremy added four different shades of brown, all the same lightness as Leigh's hair but in warmer tones. He added a sheer golden color to the front of Leigh's hair where the sun had bleached it and lightened the darker underlayers. Using a variety of shades makes the overall color more subtle and natural-looking, Jeremy says, leaving Leigh the flexibility to go longer in between trips to the salon.
Number of inches cut:

Four.
Leigh's reaction to her new look:

"The experience was fantastic. I think it was a great opportunity to turn everything over to someone else who knows what they're doing and see what someone else would pick for me, what would be best for my face. This is a style I wouldn't have chosen for myself, but I'm very happy with the results. It's easy to style at home with a blow dry or even just let it go naturally. My husband came home and said, 'You always look great—but you look great!' This experience gave me some pampering and left me with a more updated haircut that I desperately needed."
Weigh in on this makeover!
Tired of your look and ready for a change? Send an e-mail with a recent photo to makeovers@washingtonian.com, and tell us why you're ready for a new look.
More>> Shop Around Blog | Style | Find a Spa