Munch; age—"timeless"

Creative-events producer and lifestyle marketer for Puma and Red Bull.
What he's wearing: Tretorn boots, Timberland coat, Salt Works jeans, Dassler sweater, and copper bracelet from a private stylist friend.
How would you describe your look?

"Classic with a simple twist. I like there to be at least one piece that may be unpredictable, different, or make people say, 'Damn, that's dope.' "
How does your appreciation for art affect how you dress?

"I enjoy art of varying styles—everything from pieces with shock value to things that are beautifully crafted and refined to works that are provocative and leave you meditative. Art is expression, so anything expressive is artistic and comes from your creative spirit. My fashion sense is an extension of that."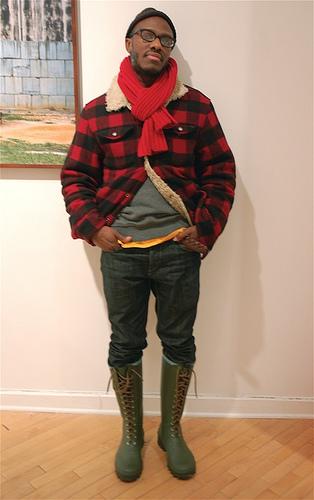 Any favorite places to shop in DC?
"No favorites—you can find that one special piece anywhere, anyplace, and at any time."
What's on your style wish list right now?
"Black Puma Mihara MY-39s. High-top patent-leather sneakers with Velcro straps with super-ill detailing on the toe. Fresh."
Rachel says:
I love the sporty, outdoorsy quality of his look. Worn with dark denim, the boots are stylishly utilitarian—perfect for wet, wintry weather.
Weigh in on Munch's outfit!
Have something to say about this week's Sidewalk Style subject? Leave your thoughts and opinions in the comments!
Earlier:
Sidewalk Style: Twice as Nice
Sidewalk Style: Rockin' Hairdo
All Sidewalk Styles
More>> Shop Around Blog | Style | Find a Spa