The Little Black Dress
Although the little black dress never goes out of style, it's back on the top of trend lists this season. Balenciaga set this trend with a series of structured black dresses that pinch in at the waist and go out around the hips. This silhouette, which emphasizes the shape of a woman's torso, was seen all over the runways this season in dresses, jackets, and tops. Find a little black dress with these lines and you have a fashionable yet classic outfit that can transition easily from a work function to a family affair to a night on the town. The Balenciaga dress is hard to come by in Washington, but here are a few charming alternatives.
Splurge: As classics never go out of style, this Alice + Olivia frock could be a prime splurge candidate for the holiday season. This silk-and-nylon robe noire is strapless and has a less architectural form than the Balenciaga, but the slightly puckered waist and hip-accentuating flounce keeps it trendy. It's versatile, flattering, and sure to charm at any holiday function. $440 at Bloomingdale's, 1961 Chain Bridge Rd., McLean; 703-556-4600; bloomingdales.com.
Steal: This adorable shift from Gap.com shares a similar neckline to the Balenciaga paradigm, although the Gap version has a less architectural form. Its silhouette is still fashion-forward, with the shirring and sash at the waist, and at $48, it leaves room to buy accessories—or more dresses.
Country Life
Designers from Michael Kors to Dolce & Gabbana are embracing country inspiration this winter with collections that transform traditional tweeds and plaids into stylish ensembles. For a funky twist on a cocktail dress that's sure to stand out, try a dress with tweed or velvet accents or a country-inspired pattern.
Splurge: While associated with tromping through English bogs, tweed is making a comeback as designers use it in exciting ways. This Michael Kors tweed print silk dress gives the fabric some pizzazz, with its youthful full skirt and decorative buttons. The frock can be dressed up or down and is suitable for both work and an evening soiree, making the $1,069 price worth the investment.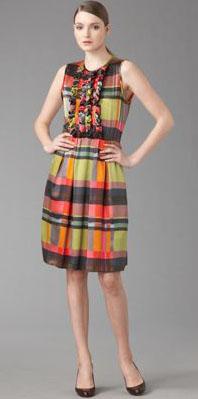 If the tweed doesn't entice you, this ruffle-front plaid dress by Etro should. The colors and pattern evoke country life, but the Italian silk and flirty ruffles make it far from provincial. The $1,071 dress is expensive, but it may just be too cute to turn down.
Steal: On sale for $118, down from $198, this two-tone tweed frock has a fitted, scoop-neck bodice in a soft wool that tops a tweed, A-line skirt. Reminiscent of a more expensive Rebecca Taylor dress, this Classiques Entier design keeps tweed fresh—and perfect for the holidays.
Dillard's is selling the Inspira plaid satin dress at a new low price of $34.50. This sleeveless, strapless dress comes in a pink-hued plaid and has a velvet tie in the back of the empire waistband. The front has a rosette detail and side pockets. The satin makes the playful and somewhat casual pattern into an evening-appropriate ensemble.
Winter Garden
Contrary to popular belief, floral prints are not only for hot, sunny summer days. Winter florals—especially accessorized and mixed with furs, feathers, and other nature-inspired elements—are a huge hit this season. The trend has taken form in tons of different styles, cuts, and colors, so even those who are normally floral-phobic can find something to suit their taste.
Splurge: This Michael Kors Gardenia Starlet dress is covered in rich purple blooms and gorgeous greens. The cut flatters and accentuates curves with a wide V-neck, fitted waist, and long, lean pencil skirt. Priced at $1,895, the dress could bounce from season to season—depending on how you accessorize it. Available at Saks Fifth Avenue (5555 Wisconsin Ave., Chevy Chase; 301-657-9000) or saksfifthavenue.com.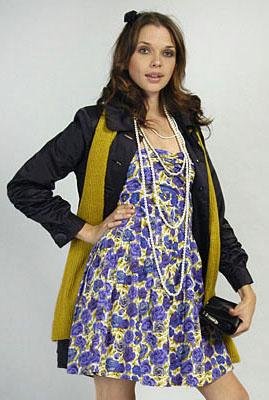 Steal: Following a similar color scheme, this Forever 21 dress is just as seasonally versatile as the pricier Michael Kors look. The flirty print, gathered bodice, and pleated skirt are adorable, flattering details that will make you stand out at your holiday gathering. And at only $24.80, it'll still leave you with cash leftover to add some wintry touches like black tights, a faux-fur shrug, or long strands of pearls. Shop or find locations at forever21.com.
Shine On
The easiest way to light up the room this holiday season is with one of these drop-dead glam dresses made in shimmery, metallic fabrics. In particular, the short cocktail versions are everywhere—perfect to wear with black tights and heels. But if you have a super-fancy fete to attend, don't hesitate to try out one of the floor-grazing styles.
Splurge: Vera Wang's Lavender Label collection is full of this glamorous winter trend in both short and long styles. This strapless short dress in a shimmery silver is a standout because of its gorgeous details: the silk chiffon fabric, elegant ruching, and sweetheart neckline. These unique features also give it a hefty price tag at $495. Available at Saks Fifth Avenue (5555 Wisconsin Ave., Chevy Chase; 301-657-9000) and saksfifthavenue.com.
Steal: On a budget? Snag this look for way less. Mossimo at Target is selling this strapless bubble dress in silver birch with a band around the waist and big bow in the back. It's festive, trendy, and yet also somehow classic. The dress is cut in a more forgiving silhouette than the Vera Wang, and the metallic sheen gives it holiday cheer. For $31.99, you can own this stylish dress and be a hit all over town. Multiple Target locations; target.com.
More>> Shop Around Blog | Style | Find a Spa

Shopping

→ Gifts for Geeks: Holiday Wish Lists From Local Techies
→ Jingle Bell Shopping: Holiday Markets and Craft Bazaars
Entertaining/Activities

→ Send Us Your Holiday Light Photos
→ Create a Holiday Cocktail Party for $75
→ Timber!—A Guide to Local Christmas Tree Farms
What to Wear

→ What to Wear to Holiday Parties
→ Splurge Vs. Steal: Holiday Party Edition