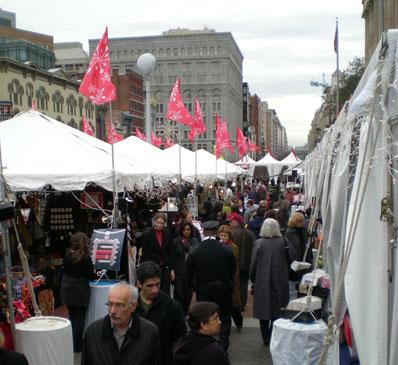 Downtown Holiday Market
Friday, December 5, through Tuesday, December 23, check out the fourth annual Downtown Holiday Market on F Street between Seventh and Ninth streets. A rotation of 150 local exhibitors and artisans will be selling tons of gift-worthy items, including jewelry, pottery, photography, clothing, and food. Local musicians and bands performing everything from jazz to bluegrass to a cappella will keep the atmosphere festive and entertaining. The event will be open daily noon to 8.

Glen Echo Holiday Art Show & Sale
The Glen Echo Park Partnership for Arts and Culture presents this annual event featuring works by resident artists, including glass, ceramics, photography, painting, and more. The event will be held Saturdays and Sundays from noon to 6 until January 11.

Holiday Art Show and Sale at Gallery 222
This Loudoun Academy of the Arts event runs from Friday, December 5—with an opening reception from 6 to 9 PM—until Saturday, January 10, and will feature fine art by 22 artists. Monday through Saturday 10 to 5.

Celebrate the Season Annual Holiday Gift Market
This sale, now in its seventh year, is held Tuesday, December 9, and Wednesday, December 10 in the Great Hall of the National Museum of Women in the Arts. Shop for unique jewelry, home accents, accessories, and gifts made by women designers and artisans, and receive double discounts if you're a museum member. There'll also be a book signing on both days with NMWA founder Wilhelmina Cole Holladay, author of A Museum of Their Own. Admission is free.

Sugarloaf Crafts Festival
Come out to the Dulles Expo Center from Friday, December 12, through Sunday, December 14, to see the work of 300 fine artists and craft designers. Adult admission is $8, good for all three days. There'll also be food, craft demos, entertainment, and children's activities.

Bloomingdale Holiday Arts Market
On Saturday, December 20, from 4 to 9 PM, head out to Big Bear Cafe in DC's Bloomingdale neighborhood to browse through and buy locally crafted handmade gifts.
Rock 'n' Shop at the Black Cat
Stop by the DC music venue Black Cat on Sunday, December 21, at 8 PM for its biannual Rock 'n' Roll Garage Sale, featuring recycled clothing and accessories, screen-printed tees, and jewelry from the Queer Crafter Collective, as well as records and other holiday gifts. Admission is free.

Eastern Market
This popular market, open year-round, is a great market for holiday-gift shopping. The weekends are especially good with the market festival on Saturdays (think artisan crafts such as paintings and pottery) and the flea market on Sundays (antiques and collectables with an international flavor).
Capitol Riverfront First Annual Holiday Market
From Tuesday, December 16 to Thursday, December 18, the Capitol Riverfront will be transformed into a festive holiday marketplace featuring the handcrafted jewelry, pottery, photographs and other unique gift items from local artisans. The event, held at the intersection of M St. and New Jersey Ave., SE, will be open from 11:30 to 6 on all three days.
Off the Walls Annual College Art Sale
Off the Walls is the Corcoran College of Art + Design's annual art sale, featuring fine arts, jewelry, and ceramics made by Corcoran students, faculty, alumni, and staff. The event will be held in the Corcoran Gallery of Art from Thursday, December 11 to Saturday, December 13. The sale runs from 5 to 9 PM on Thursday, and 10 to 3 on Friday and Saturday. All sales directly benefit the artists and the Corcoran's Student Activities Programming Board.
Let us know about any other holiday markets we missed in the comments!

Shopping

→ Gifts for Geeks: Holiday Wish Lists From Local Techies
→ Jingle Bell Shopping: Holiday Markets and Craft Bazaars
Entertaining/Activities

→ Christmas in Washington Restaurant Dining Guide
→ Tips for Decorating Your Home
→ Send Us Your Holiday Light Photos
→ Create a Holiday Cocktail Party for $75
→ Timber!—A Guide to Local Christmas Tree Farms
What to Wear

→ What to Wear to Holiday Parties
→ Splurge Vs. Steal: Holiday Party Edition