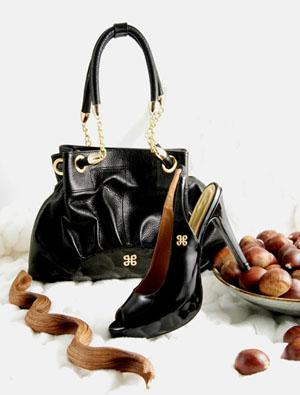 What: Colorful urban shoes, handbags, and shoulder bags. Each design is named after a street or neighborhood in DC.

Who: Alex Ayrom, 43, one of three owners of Moojoo Ken boutique, was born in Iran and moved to France before settling in the United States in the late '70s. He earned his master's degree in French literature in Mississippi and taught at George Washington University and DC's Cardozo High School before opening the boutique with John Mark Anderson and Heather Dadmanesh.

Where to buy it: Moojoo Ken (which means "unconditional" in Japanese) is located at 1512 U Street, Northwest. It also carries jewelry and clothing from other designers, and some of the handbags, shoulder bags, and jewelry are available online at shop.moojooken.com.
Symbolism: The little emblem you see on the Moojoo Ken Web site has a story behind it. Alex remembers doodling it as a child and thinking, "Maybe one day I'll design a line of clothing and this will be the emblem." When he started Moojoo Ken with his business partners, the idea came back to him, and now the emblem is incorporated into all of his designs.
Natural talent: Alex had no experience in fashion design before opening Moojoo Ken. "I was teaching, and I wasn't thinking about designing," he says. "Then I decided it was a good time to do something I always wanted to do.". When the boutique opened in January 2006, he designed most of the handbags and shoes, but now some of the designs are collaborations. He also stocks jewelry from local artists and clothing from designers as far away as Los Angeles and France.
Localized designs: The idea to name the designs after areas in DC adds a personal touch to each handbag and shoe. "We thought we were the only people who ever designed shoes and handbags in DC," Alex says. "We wanted to do something for Washington . . . as far as fashion is concerned." He acknowledges that DC has come a long way in fashion but says the men need to step it up: "It's still not there yet, but I think the women are doing a great job. The men—forget about them. They are clueless."
Alex's faves:
Place to shop for clothes: Barneys Co-op, Saks Fifth Avenue, Relish.
Place to shop for shoes: "I only shop for shoes when I travel abroad, unless I'm buying Converse tennis shoes."
Restaurant: Sushi-Ko.
Ideal day in DC: "During the day on a weekend, I like to walk around the different neighborhoods and see all the new stores that have opened. Another ideal day is spending weekends here at the retail store when we have the most traffic with customers and getting their feedback. That's the perfect day for me."
More>> Shop Around Blog | Style | Find a Spa