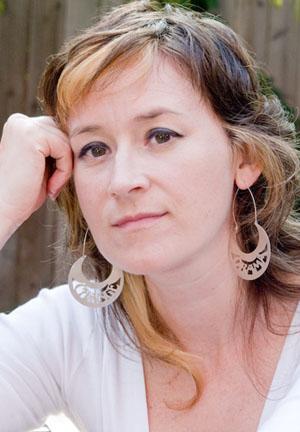 What: Barefoot Czarina, a nature-inspired jewelry line that includes rings, earrings, necklaces, pendants, and bracelets.
Who: Maria Fyodorova, a local designer originally from Russia. She has a degree in international environmental affairs and an MBA in environmental policy and management. She divides her time between her job as an environmental consultant, working on her jewelry line, and writing for her blog on green living, Righteousrestyle.com.
Where to buy it: Maria's Web site BarefootCzarina.com directs you to her Etsy online shop. Some pieces are also available through UnsungDesigners.com, and you can e-mail Maria directly for custom orders at maria@barefootczarina.com.
What's in a name: Maria says the name Barefoot Czarina is a reflection of her heritage and personality. She came up with the idea from a vision she had of a queen who reflected her style and taste. "I'm kind of a hippie in terms of how I live my life," she says. "I love gemstones and adornments. I have this idea of a queen who's fancy and covered with jewels but is also kind of a free spirit."

Heavy metal: Maria is a self-taught designer, and after working with gemstones and beads for awhile, she decided to try something new: metalsmithing. She took a class at Creative Metalworks in Kensington to learn the basics and now uses sculpting techniques to create most of her jewelry. But she does feel some ambivalence: "I've always had a hard time combining my environmental life and my jewelry life, and metal mining and gemstone mining is really taxing on the environment," she says. In an effort to be more environmentally friendly, Maria uses vintage leathers and jewelry pieces combined with new pieces for her latest designs. "That's been a really exciting discovery for me to be able to use old things to make new things that look current."
Bigger isn't always better: Maria says running a very small creative business can be trying because a lot of what she does isn't the creative part. Her solution has been to keep her jewelry line a part-time endeavor: "I'd rather produce one-of-a-kind or limited-edition pieces on a part-time basis than try to get my things out to a million boutiques. I have an MBA, so I don't mind the management part of it, but that's not why I make jewelry. I make jewelry because I like the creative part of it."
Obamania: One of Maria's recent projects is Barack Obama jewelry, which includes earrings, pendants, and two necklaces. She started making it in September and showed the jewelry at the Crafty Bastards arts-and-crafts fair in DC's Adams Morgan. "The big response was 'This is so neat, but I couldn't wear this to work.' "
Maria's faves:
Place to shop for clothes: "My blog is all about ecofriendly shopping, and I really love Goodwill. I mostly shop at vintage and secondhand stores. I also really like Etsy and eBay for their vintage items."
Place to shop for shoes: "I haven't been indulging my shoe side too much, but I really like Zappos.com, and if I have an interview or if I need a pair of shoes quickly, I'll go to Nine West."
Restaurant: "Thai Tanic in Logan Circle."
Favorite place in DC: "I love biking in Rock Creek Park and finding a spot where there isn't anyone else around and meditating and doing yoga."
More>> Shop Around Blog | Style | Find a Spa