If you have had your eye on a pricey-but-perfect item for your home, now is the time to check that tag again. Furniture and design stores are eager to unload their 2008 stock, and almost every shop around town is having a sale this month. Here are our picks:
• Design Within Reach knocked $600 off of its rustic-but-elegant double teak dining table, which is now $1,200. The matching bench also dropped $200, to $680.
• Sheets and bed clothes are almost universally on sale, making high end items for your linen closet (more) affordable. FrouFrou embroidered sheets from 1891 by Sferra are currently 30 percent off at Bloomingdale's.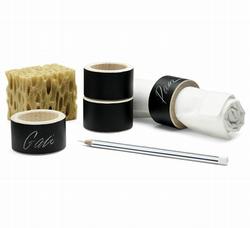 • Looking for a unique touch that everyone will remember from your first dinner party of the year? Snap up chalkboard napkin rings from the Museum of Modern Art store, and show your guests where to sit by using their nicknames or their movie star twins. A set of four is now $35, down from $65.