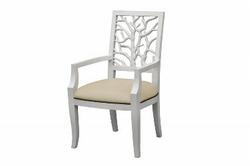 If you're looking for something more unusual than solid-back dining chairs, these two designs would make a fun choice.
Splurge

Vastu's coral chair exudes an earthy elegance. The traditional shape is paired with an intricate back, which looks like the trunk and branches of a tree. The wooden side chair ($1,100) and armchair ($1,300) come in white, enamel white, black, chalk, dark brown, silver, and enamel orange finishes. You can choose from a variety of fabrics for the seat.
Vastu, 1829 14th St. NW, 202-234-8344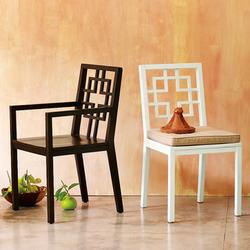 Steal

The overlapping squares on these chairs from West Elm put a refreshing twist on a classic design. Featuring simple, geometric patterns, these chairs are easier on the wallet (side chair $169; armchair $199) than the set from Vastu. Available in white or chocolate finish; cushions ($40) are sold separately.
West Elm, 1020 G St. NW, 202-347-8929; Tysons Corner, McLean, 703-633-0227