>> See our full Valentine's Day Guide
Spanx may ensure that you're panty-line free or seductively smooth, but they're about as sexy as footie pajamas when worn on their own. So we've scoured Washington's best boutiques and department stores, discount and high-end alike, to bring you a selection of undergarments sure to wow your significant other—or just to make you feel pretty—this Valentine's Day.
Not a single thing is from Victoria's Secret, that famed purveyor of all things sexy, and Frederick's of Hollywood didn't make the cut, either. Instead, we selected items you might actually wear at prices you can probably afford. Every item but one (it is cashmere, after all) is less than $100. As a bonus, nothing is insipidly adorned with hearts, flowers, or "be mine" candies, but we did find a funny pair of "love monkey" pajamas at Target!
Flirtatious femme:
This seductive yet not skanky lace-trimmed satin slip features a flounced hem perfect for those ladies with just a little junk in the trunk they'd like to cover up. A super-low tie-back adds yet another dash of sex appeal to the otherwise conservative front. It's available in both black and purple from Sophie & Me for Forever 21. $16.80, forever21.com.
Risk taker:
This silky sheer "speakeasy" tunic from Silence & Noise (for Urban Outfitters) displays an incredible amount of detail given its bargain price. Wear it alone for a va-va-voom stunner, or pair it with a simple, opaque slip for a more conservative—or perhaps even wearable-outside-the-bedroom—look. $19, urbanoutfitters.com.
Sassy and single:
Even if you're not celebrating Valentine's Day with a significant other, that doesn't mean you can't purchase something pretty for the holiday. If pink, red, and black seem too kitschy, go for David & Goliath's humorous tank-and-pajama-pant sets, $52 each. One of our favorites reads "If life hands you lemons . . . squirt them in people's eyes." Buy a size up—they run small. davidandgoliathtees.com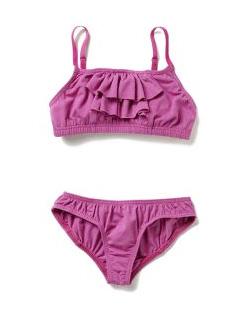 Conservative cutie:
This super-soft jersey fabric has bamboo in it for a smooth feel against your skin. Ruffle bralette and matching ruffle-back hipsters, $52 and $38, anthropologie.com.
Imaginative underthings:
Spice up a plain black bra with just a peek of hot pink underneath with this Elle MacPherson Intimates find from Sylene. We can't promise that a supermodel body will come with it, but a confidence boost most surely will. $70, sylenedc.com.
A walk on the wild side:
There's little left to bare in this seductive siren-red number from Penn Quarter hot spot Coup de Foudre by Chantelle. $98, coupdefoudrelingerie.com.
Eccentric accessory:
Secretly, we believe that every woman has once dreamed of a pair of these iconic Marabou slippers, and this pair is just right—not to too tall and not too frumpy. These babies might come out only once a year, but when they do, watch out! $42.50, amazon.com. Also available in red and black.
More>> Shop Around Blog | Style | Find a Spa


Shopping

→ Budget Gift Guide: Under $20

→ Gift Guide for Her

→ Gift Guide for Him


→ Gifts to Warm Your Home

→ Valentine's Day: Beyond Red Roses

→

Dining

→ Tables for Two: Valentine's Day Menus in Washington


→ Looking for Valentine's Chocolate? How About a Mojito Truffle

Activities

→ Beyond Chocolates and Roses: Ten Quirky Things to Do on Valentine's Day


→ Heart-to-Heart Getaways: Valentine's Day Hotel Packages


→ Valentine's Romance at Home