We love Craigslist. In fact, we're sort of addicted to searching the free classifieds site for really random things. Like houseboats.
When we recently searched for the term "Valentine's Day," we were surprised to see two pages of results. What could people possibly sell on Craigslist for Valentine's Day? Turns out, quite a lot.
We decided to pick the best and worst Valentine's gifts Washingtonians are hawking for quick cash and run photos of them here. Please note our (totally arbitrary) Gift-O-Meter rating system, with 1 being you'll-be-sleeping-on-the-couch terrible and 5 being make-arrangements-for-a-dogsitter-because-you-won't-be-coming-home awesome.
You're welcome.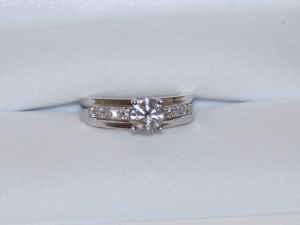 Diamond engagement ring ($1,500)

The three-quarter-carat round-cut diamond is flanked by four channel-set baguettes on each side. The bling sits in 14-karat white gold. The seller insists on cash only.
Gift-O-Meter says: 4. The ring is sure to wow, but we think getting engaged on Valentine's Day is a tad cheesy and predictable. If you decide to pop the question, please, oh please, don't bake the ring into a cupcake.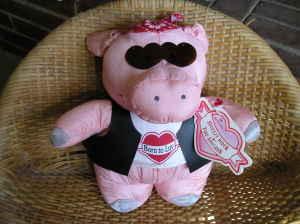 Bad-ass biker pig ($10)

The price is right on this plush porker, but is the sentiment? Here's what it says to a woman: "I see pigs and think of you." Ouch.
Gift-O-Meter says: 2
Red vase ($10)

Fill this vase with flowers—anything but roses, please—and you've got yourself a gift most women would swoon over. The ad says the vase is $10 or best offer, so we recommend low-balling the seller for an even better price.
Gift-O-Meter says: 3. It's hard to go wrong with flowers. Add a box of chocolates from one of these stores, and you could bump your rating up to a solid 4.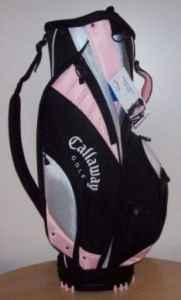 Pink-and-black golf bag ($65)

This gift scores points for incorporating a Valentine's Day color (pink) into an otherwise humdrum item. Without the splash of color, the golf bag might fall squarely into the trash-can or vacuum category—in other words, useful but wholly unromantic.
Gift-O-Meter says: 3, if you swing it right. ("But honey, it's pink! Pink!")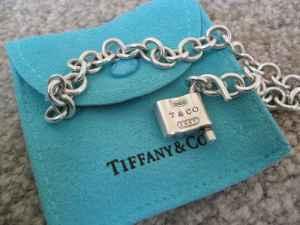 Tiffany & Co. charm bracelet ($185)

This bracelet goes for $275 on the Tiffany Web site, so the Craigslist find is a steal. It reminds us a teeny bit of high school—when Tiffany bracelets from Daddy Warbucks were the trend (although we didn't have one, sniff, sniff)—but the jewelry is pretty nonetheless. It comes with Tiffany's signature blue pouch and box, so bonus points for a used gift that could likely pass as new.
Gift-O-Meter says: 4.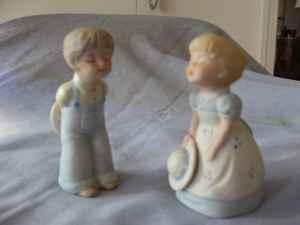 Kissing porcelain figurines ($28)

There are few words to describe these crap-tastic figurines, except to say that we hope the less-than-stellar quality of the photograph makes them seem worse than they really are—but we're not holding our breath.
Gift-O-Meter says: -1. You wouldn't even get the comfort of sleeping on the couch with this gift; you'd be relegated to the doghouse.
Stripper pole ($80)

The seller says the pole is brand-new and comes with an instructional DVD. There's nothing like a little soft-core porn to give your Valentine's Day a touch of class. Bonus: The pole's portable, so you can set up shop wherever you want.
Gift-O-Meter says: Either 1 or 5, depending on the recipient. You be the judge.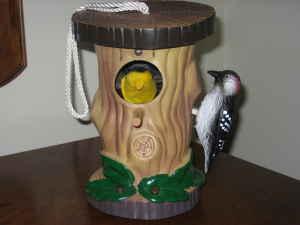 Motion-activated singing bird ($15)

This plastic bird moves and sings "Knock on Wood"—so not only is it tacky, but it's obnoxious. If this is your idea of a great Valentine's Day gift, this will probably be the last date you ever go on.
Gift-O-Meter says: This gift is so bad, it's unrateable.

Shopping

→ Budget Gift Guide: Under $20

→ Gift Guide for Her

→ Gift Guide for Him


→ Gifts to Warm Your Home

→ Valentine's Day: Beyond Red Roses

Dining
→ Tables for Two: Valentine's Day Menus in Washington


→ Looking for Valentine's Chocolate? How About a Mojito Truffle
Activities
→ Beyond Chocolates and Roses: Ten Quirky Things to Do on Valentine's Day

→ Heart-to-Heart Getaways: Valentine's Day Hotel Packages


→ Valentine's Romance at Home