While scouting the latest spring trends at the recent InStyle and Neiman Marcus preview event, we had the pleasure of meeting Kate Barber, local fashionista and author of style blog Bellwether. Over the past month, we've become huge fans of her exuberant style savvy plus her insightful fashion comments, such as one recent post about the history of the J. Crew Collection, J. Crew's upscale line that has recently made a return to stores.
We naturally bonded over our mutual love of all things style and Washington, and it stood to reason that Barber would make a natural fit for the next Frugal Fashionista column. After all, who better to ask than someone whose blog title means "one that serves as a leader or as a leading indicator of future trends"?
In keeping with theme of how we met, Barber was assigned the task of locating several frugal versions of this season's "it" shoe, the cage sandal or bootie. Unlike past series, where stylistas were given a set budget, we asked her to find shoes that were significantly lower-priced than their designer counterparts. But because the original shoe could easily be close to $1,500, we just told her to be rational with her choices.

What she chose:
The inspiration for all of the shoes was this Chanel bootie, shown during the fashion show. It's available at Neiman Marcus in Mazza Gallerie for a hefty price.
"These are all very trendy shoes," says Barber. "While they might not be appropriate for a day on the Hill, they'd definitely spice up a night on the town. Supposedly, they're also easier to walk in because they cradle your foot and keep it from slipping out of your shoe."
Barber exceeded our expectations by finding not one but three high-end shoes that fit the trend and at least one low-end version of each.
High: Yves Saint Laurent patent cage low boots, 1,100 euros (about $1,450). Available late March.
Low: Pelle Moda–Kammi open-toe cutout bootie, $209.
What Barber says:
"I like how the Pelle Moda Kammi Bootie mimics the unique crosshatching pattern of the YSL cage boot, but it's more wearable by turning it into a low-ankle boot. This is one tough shoe. I'd soften them by pairing them with a pair of rolled-up boyfriend jeans and a tee. And at $209 versus a whopping 1,100 euros, the Pelle Moda is a smart buy if you like the look."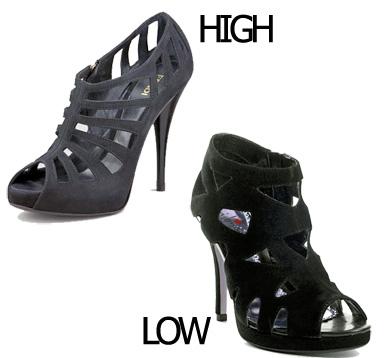 High: Fendi suede platform cutout bootie, $770.
Low: Luichiny "Sima," $126.99.
What Barber says:
"I'm crazy about the Luichiny "Sima" shoe. At only $127, it looks just as good as its $770 counterpart, the Fendi cutout bootie. The black suede makes it more dressy than the Pelle Moda shoe. I'd wear these in place of dress heels with a high-waisted black skirt or a fun party dress."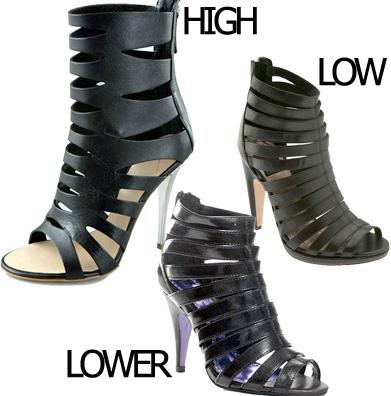 High: Giuseppe Zanotti laser-cut, high-heel, zip-back bootie, $875.
Low: Dolce Vita "Chastity" bootie in black, $174.95. (Also available in metallic.)
Low(er): Luichiny Maven, $81.99.
What Barber says:
"The Dolce Vita 'Chastity' bootie (what a terrible name!) comes in black and a great metallic leather that reminds me of the Giuseppe Zanotti laser-cut, zip-back bootie. The cage on this shoe comes up higher than the previous two. I'd pair this with cropped, slim jeans right now and dressy shorts—another big trend for spring—when it gets warm enough.
"Finally, if you like the cage shoe, but don't want to spend more than $100, the Luichiny 'Maven' is only $82 and has the look of the Giuseppe Zanotti and the Dolce Vita for a fraction of the price."
Look for more spring-trend issues of Frugal Fashionista in the coming weeks.

If you'd like to be featured in the series, e-mail mclean.robbins@gmail.com with a brief bio and an explanation of why you deserve to be crowned the next Frugal Fashionista.
Related Links:
More>> Shop Around Blog | Style | Find a Spa