Valentine's Day decor usually falls into two categories: It's either overly formal, echoing Victorian frilliness, or outright tacky (think Cupid votive stand). This week's splurge and steal avoid those pitfalls, and instead exude a pop-art levity.
Related: Guide to Valentine's Day in Washington

Splurge

This heart-shaped paperweight by Ulrica Hydman-Vallien will add a fun splash of color to any desk. Looking more like graffiti than fine art, the paperweight is hand-painted, and the visible brushstrokes add a personal touch. The Kosta Boda Heart Paperweight costs $100 and is available at Neiman Marcus.
Neiman Marcus has locations in Virginia, DC, and Maryland.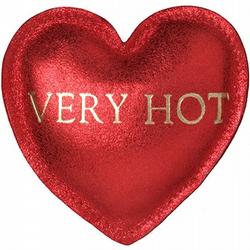 Steal

At $21, the Paper Source's Very Hot red leather paperweight leaves you with plenty of money left over for a fancy V-day dinner. The tongue-in-cheek paperweight reads "hot" on one side and "very hot" on the other—you can flip it back and forth throughout the day.
Paper Source has locations in Virginia, DC, and Maryland.
Related Links:
→ Budget Gift Guide: Under $20
→ Gift Guide for Her
→ Gift Guide for Him
→ Gifts to Warm Your Home