Variety is the difference between an ordinary but nice home and a unique place that always reminds me of its owner. It's also why some homes with very large design budgets can turn out completely ho hum. If you buy everything from one place, even if that place is Random Harvest or Horchow, it's too cohesive. There just isn't enough to look at.
And that is why you shouldn't be afraid to mix cheap with fancy. Add one of Pier One's $79 poufs, down from $99, to your living room for instant color and extra seating. Fill Target's $39.99 teak storage box, down from $79.99, with towels in your bathroom for a simple, spa-evoking touch.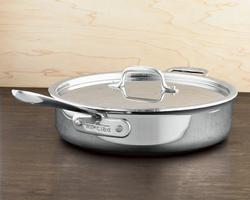 Cheap items can be changed out frequently or repurposed, but more expensive items should have staying power. Ideally, you'll also use the pricier stuff more frequently, like this All-Clad sauté pan at Williams-Sonoma, which is down from $280 to $209.