Want to hear some good news about the economy for a change? At least one industry seems to be booming in the midst of economic apocalypse: consignment shops. "I'm recession-proof," says Inga Guen, owner of Inga's Once Is Not Enough.
Guen says in the past six to eight months, her consignment shop in DC's Foxhall Village, which deals exclusively in high-end labels, has seen a dramatic increase in consignors—many of whom are first-timers—looking to sell their clothing, jewelry, accessories, and more for cash. The result? A store brimming with once-rare designer goods at a fraction of the price.
Birkin bags, the waiting-list-only handbags manufactured by Hermès, used to come into Guen's shop about once a month. Now, she says, it's once a week. Guen sells the bags for as little as $3,000—less than half of what they cost new.
And that's not all. "I have so much Chanel right now that you wouldn't believe," says Guen. Dolce & Gabbana, Prada, and Gucci labels have also become regulars. Secondhand Manolo Blahnik shoes, which sell new for $600 to $800, can be had for $150 a pair.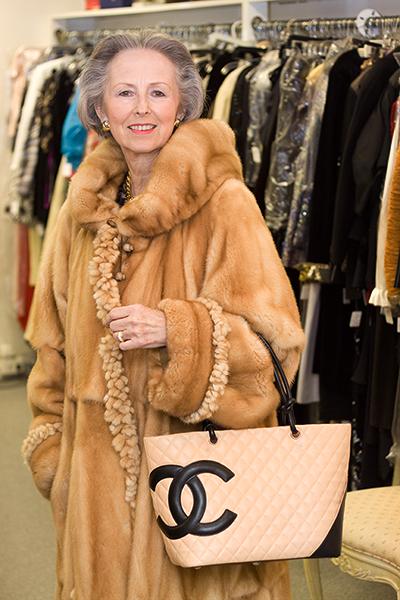 Fur coats have been on the rise as well. Guen remembers one consignor who'd purchased a mink coat from Neiman Marcus for $15,000. Two months later, after losing her job, she brought it to Guen to sell. The coat sold in two days for $3,000.
Caitrine Callison, owner of Secondi in Dupont Circle and a 23-year industry veteran, has noticed a similar trend. Her store has stopped accepting some of the lower-end labels, such as Express and the Limited, in order to free up floor space for the droves of high-end labels coming in. Secondi's jeans selection has surged the most, with brands such as Citizens of Humanity, Lucky, Milly, and Nanette Lepore joining the stock. Callison says a pair of $250 jeans would sell for $65 or $70 at her store.
Secondi has also seen an uptick in designer handbags. Louis Vuitton, Gucci, Kooba, Botkier, Hogan, and Foley + Corinna are just some of the labels it's getting. "We've recently seen a lot of Marni," says Shannon Chichester, Secondi's manager. "That label did not come in a few years ago." Currently in stock is a Marni skirt that cost $860 originally; Secondi is selling it for $262.
Callison started noticing an increase in consigning in late November and early December, when she says business usually slows. "People have already cleaned out their closets by then," she says.
Last year was different; new items were coming in every 15 minutes. To keep up with the steady stream, Callison had to convert one of her dressing rooms into a storage closet.
"We were getting new labels I'd never even heard of before," she says. Her staff recently finished cleaning out the dressing room, but that's not a sign that business has waned. Secondi is completely booked with appointments for first-time consignors through mid-March.
Lidia Ramos of Second Chance in Bethesda says the bum economy has brought a new breed of shopper to the store. Women who once shopped exclusively at pricey boutiques and department stores, such as Saks Fifth Avenue and Neiman Marcus, are turning to consignment shops to help stretch their dollars further.
Christina Novak, owner of Falls Church's New to You, agrees: "One woman who had bought a dress at Cusp in Tysons Corner found one here for a better price. She returned the Cusp dress."
Three months ago, a first-time consignment shopper came to Inga Guen with $10,000 to spend. She'd visited a department store and found that her budget would allow her to buy only two suits. At Inga's, the woman was able to purchase six Chanel suits, four pairs of Manolo Blahnik shoes, three designer handbags, and a handful of accessories—and she still walked out with $3,000 in her pocket. Says Guen: "Her husband called to thank me two days later."
Shannon Chichester has similar stories of elated shoppers, but she's quick to point out the reality of the situation: "We know lots of people who've lost their jobs. A lot of people are turning to their closets to make ends meet. I've had women who come in to sell their favorite purse just to pay their rent. It's so sad."
Related Links:
More>> Shop Around Blog | Style | Find a Spa