For this issue of Frugal Fashionista, we've partnered with Kristen Soltis, director of policy research for the Winston Group by day and frontwoman of the local rock band the Frustrations by night.
We've caught several of Soltis's shows and know that her signature red dress spices up the stage, but we also noticed that she was wearing the same thing to every one of her gigs. And hey, half the fun of getting dressed up is putting together a unique outfit to suit your mood.
We learned later that while Soltis loved her Betsey Johnson getup, singer Katy Perry also wore the same dress in a recent photo shoot.
Soltis graciously agreed to take on the task of finding a new budget-friendly outfit for her next gig, incorporating both her signature style and splashy elements that would play well on stage. We offered to find her a stylist, but this smarty-pants (she's currently earning a master's degree in government from Johns Hopkins) insisted she could do it herself.
Says Soltis: "My dream onstage style is—nerd alert—Six from Battlestar Galactica meets Gwen Stefani and Monique Powell from that '90s ska group Save Ferris (you may remember them playing in Ten Things I Hate About You): a hot red dress with a little punk-rock flair. The guys in my band always wear ironic or funny T-shirts with jeans when we play, so as the only girl in the band, I try to be a bold contrast with them and always wear a red dress."
Will she hit a high note or fall flat? Give us your thoughts in the comments below.
Because Soltis is really searching for her main piece, we asked her to pick several red options for less than $100 as well as a standout accessory or two she could pair with all of the pieces.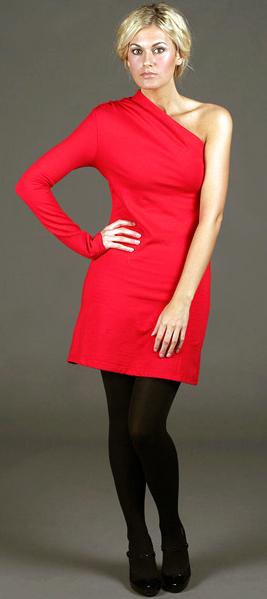 Here's what she chose:
One-shoulder dress by Young Fabulous & Broke, $53, StandardStyle.com.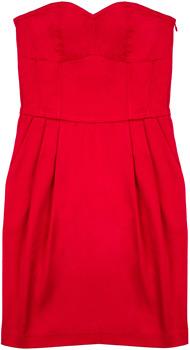 Fred Flare Tube Dress, $65, Fred Flare.com.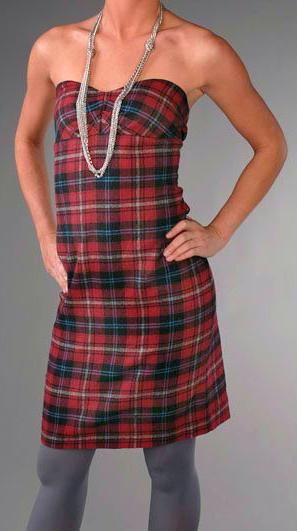 Plaid strapless dress by Glam, $20.40, SouthMoonUnder.com.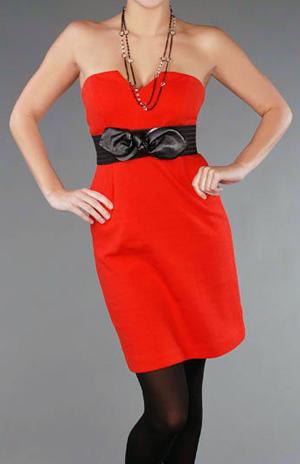 Tara tube dress by Priorities, $77, SouthMoonUnder.com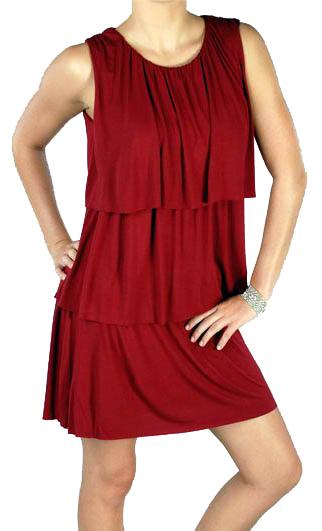 Tiered tank dress by Velvet, $88.80, SouthMoonUnder.com.
We're thrilled that each of Soltis's picks accentuates a different wow factor and mixes up her look in a different way. All are less than $100, so she can showcase a great accessory, shoe, or bag without breaking the bank.
The plaid dress is the most "rocker chic," while the Young Fabulous & Broke pick is a truly modern take.
The tube-dress options are the most like her original pick and can be worn year-round with a variety of accessories.
For summer and spring shows, we're a fan of the tiered tank dress from the local chain South Moon Under (Washingtonian.com readers get 15 percent off all month long); the layers show movement, and the soft cotton is breathable.
Shoes:
Naughty Monkey Jay Rocks pump, $19.99 to $71.99 (yes, the price varies that much; we found them at Street Moda, but only one pair was left at $19.99)
"They're an expensive item, but as soon as I saw them, they were the one piece I knew I had to have," says Soltis. "The chains and studs are a little bit cliché punk, but it's not overdone. The heel is high, but it looks sturdy enough to handle a lot of jumping around onstage. It also never hurts to have steel-toed shoes on when you're onstage."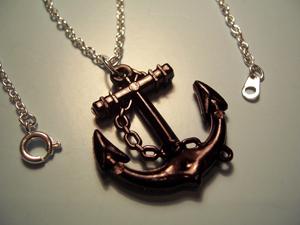 Bling:
Anchor necklace, $5, etsy.com.
Wear this Anchor necklace alone or pair it with a few long silver or black chains for a layered effect—it highlights almost all of the necklines showcased and adds visual interest to the strapless pieces.
Stone ring, $5.80, Forever21.com.
"When you're singing, the microphone is usually near your face, and that means your hands (and wrists) are a big focus," says Soltis. "Something shiny like this will stand out, but unlike a bracelet, it won't slide around and cause a distraction."
Belt:
Elastic leaf buckle belt, $7.80, Forever21.com.
Both the tiered dress and Fred Flare strapless pick could use some oomph, so we added this buckle belt from Forever 21. "The belt breaks up the solid red of the dress and highlights the waist, which is a real plus," says Soltis. "I love this belt trend because it creates curves. Viva Joan Holloway from Mad Men!"
If you think you've got the chops to be considered for an upcoming Frugal Fashionista, e-mail mclean.robbins@gmail.com.
More>> Shop Around Blog | Style | Find a Spa