There are plenty of decorating trends from the 1970s that have appropriately disappeared. You won't catch me lamenting the loss of wall-to-wall shag carpeting or the art of macramé. Still, that distinctive decade had some gems, and one of them is printed bath towels. Wouldn't these towels from Anthropologie look pretty hanging on a rack alongside solid towels? They are on sale for $19.99, down from $36.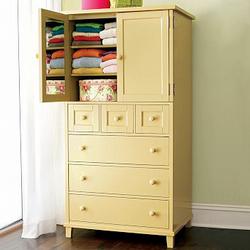 Meanwhile, Pottery Barn Teen has lowered prices on some functional items that could work in plenty of places other than a kid's room. The Get Ready Chiffonier is down to $719 from $999. When I saw the Beadboard Wide Dresser, I immediately thought of this blog post, which claims that you can build your own bathroom vanity from other furniture.
Clearly, I'm into vintage-y, rustic-looking furniture, but I am also a big proponent of using pops of color and modern furniture to keep things interesting. In the right room, this Scoop Chair could really work, although I wish it were available in a more colors. It's on clearance for a still-pricey $210, down from $585.