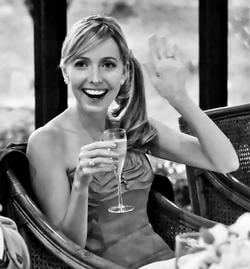 The hottest young jewelry designer to hit the scene isn't selling her wares from the Big Apple or the left coast. Local designer Suzanne Allis, of Suzanne Somersall designs, manufactures feminine yet trend-worthy pieces of gold, silver, and platinum from her Alexandria home base.
We had the chance to sit down with Suzanne at Murky Coffee when she arrived in town to prep for her trunk show this evening at Bethesda's Ginger Boutique.
Suzanne has been interested in visual arts since an early age, but it wasn't until college that she truly began to explore her passion. On a yearlong study-abroad program in Florence, Italy, Suzanne got her first taste of formal jewelry classes, learning the basics of metalsmithing and jewelry design. After college, she admits, her choices were limited—she could have launched her own business but lacked both the entrepreneurial savvy and the technical experience to complete a line that would satisfy her perfectionism. So she enrolled in a master's program at the Rhode Island School of Design and completed a yearlong course in jewelry making.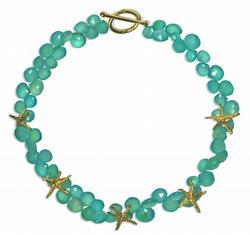 "People think, 'Oh, it's art school—so easy,' " says Suzanne. "But it was the most intense year of my life."
Suzanne, who splits her time between her native Charlottesville and Okinawa, Japan, where her Marine husband is stationed, is at work on her fall line of rings, bracelets, and necklaces. At present, she's showcasing a seasonally appropriate collection, called Sakura, inspired by the cherry blossoms in Washington and Japan.
"I've been very inspired by the natural beauty of the places I've visited," says Suzanne, who has spent the past eight months traveling back and forth between East and West. For example, the cherry blossoms in Japan are a vivid hot pink, while here they're a muted pink-white. Suzanne has been experimenting with materials such as rose-gold and pink sapphires to replicate the colors.
Her jewelry ranges from $50 to $20,000, depending on the materials used. She often works with custom orders and can modify designs based on individual customer needs. Friends, for example, loved her diamond-and-gold starfish earrings but couldn't afford the price, so she duplicated the pattern with cubic zirconia stones.
For high-end clients, Suzanne completes start-to-finish custom work using precious metals and stones, often sourced from the clients themselves. At some point, she hopes to split her collection into two lines: a high-end custom line that might sell in stores like Bergdorf Goodman or Barneys and a lower-priced line of fun costume pieces.
For now, you can find the Suzanne Somersall collection in stores including Ginger, Sassanova, Apres Peau, and Hysteria as well as online at www.suzannesomersall.com.
Suzanne's trunk show is at Bethesda's Ginger boutique this weekend, and Washingtonian readers receive an exclusive 15 percent off her pieces this month if they mention the magazine at checkout. To meet the designer, visit the boutique tonight between 6 and 8.
More>> Shop Around Blog | Style | Find a Spa