Want to treat mom to a great Mother's Day brunch? Lucky for you, in the May issue of The Washingtonian we pick some of the best brunches in Washington. Here are our top 5 picks for Mother's Day. For tons more of our favorite brunches, pick up the May issue, on stands now.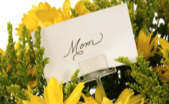 Worth the splurge: Brunch is a toss-off at some high-end restaurants. Not at Volt (228 N. Market St., Frederick; 301-696-8658), where it's hard to choose among stellar renditions of steak and eggs and rum-soaked French toast. Even tougher is saving your appetite past one of the best bread baskets around, filled with just-baked biscuits, cinnamon rolls, and pain au chocolat.
If you're in the mood for pancakes: Art Smith's dinner-plate-size pancakes at Art and Soul (415 New Jersey Ave., NW; 202-393-7777) have a ladies-who-lunch aura—they're ultra-thin, lemon-scented, and topped with honey and a spoonful of mascarpone butter—but are satisfying and not too sweet.
Brunch with a twist: The late-morning meal at Poste (555 Eighth St., NW; 202-783-6060) is full of surprises: breezy, herb-infused cocktails, a buttery Reuben with duck pastrami, softly scrambled eggs with salmon and crème fraîche. Our favorite might be the Eggs Hussarde, a mess of poached eggs, bacon, and potato skins gussied up with marchand de vin sauce.
Eye-openers: There are five varieties of Bloody Marys to choose from at Blue Duck Tavern (1201 24th St., NW; 419-6755), from an Old Bay–rimmed traditional blend to a martini poured over tomato ice cubes. At Vermilion (1120 King St., Alexandria; 703-684-9669), we like daytime cocktails such as the vodka-spiked King Street Lemonade and a gin fizz made with pear reduction.
Southern comfort: For brunch at Redwood (7121 Bethesda La., Bethesda; 301-656-5515), one cook's day is devoted to making buttermilk biscuits. Flaky and soft, they're served with red-pepper jelly, but we prefer them with honey butter and house-made mixed-berry jam.
Unexpected find: Indian restaurants are better known for lunch buffets than for brunch. The elegant Angeethi (645 Elden St., Herndon; 703-796-1527) does both well. Each Saturday and Sunday, East-West dishes such as masala omelets share space with puffs of fry bread, freshly griddled cornbread, and Burmese hakka noodles.


→ Six Great Mothers' Day Brunches

→ Mothers' Day Gift Guide

→ Mother's Day Spa Specials

→ Flowers for Mothers' Day

→ Mother's Day Activities

→ Mothers' Day Brunch Menus and Specials

→ Mother's Day Hotel Packages

→ Great Day Spas