According to the fashion calendar, fall is just about here, which means it's time to start looking for the perfect pair of shoes to replace your summer flip-flops.
So that you don't wander aimlessly in the Valley of Last Season, we've compiled a guide to this season's top shoe trends, Frugal Fashionista style.
Paige Muller, this week's Frugal Fashionista, brings to the column a wealth of shoe savvy. Muller, a Virginia-based fashionista with self-described "Prada taste on a Payless salary," is the author of Heels Are a Girl's Best Friend, a blog on the Web site FantasticToe.com, which is all about shoes. She also writes the style-and-beauty blog Hyper Pink.
We asked Muller to explore some of the season's hottest shoe trends and to find their Frugal Fashionista-worthy counterparts. Here's what she came up with: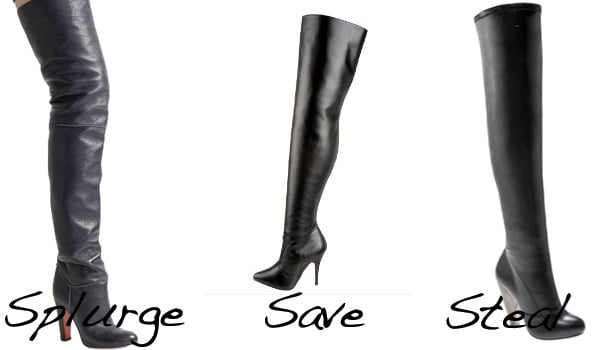 Trend 1: Over-the-Knee Boots
Every season, Muller says, a footwear trend claims the must-have-or-die-unfashionable crown. This year, over-the-knee boots are it. They've walked off the runways and the pages of Vogue right into shoe departments from Saks Fifth Avenue to DSW.
"Over-the-knee boots scream sexy, but if you're not a Twiggy clone, it can be a hard style to pull off in real life," Muller says. "There's a fine line between looking stylish and slutty. If you can picture Paris Hilton wearing it, change. Immediately.
"This is definitely a statement look, so it's best to keep it simple with classic styling and little to no froufrou. These Christian Louboutin boots are sleek and sexy but still more wearable than some other styles that are built for fantasy. Or for the pole."
Splurge:
Christian Louboutin, Contente over-the-knee boots, $1,995, Saks Fifth Avenue.
Save:
JS by Jessica Fembot, $99.95, DSW.
Steal:
Pleaser Women's Seduce-3010, $57.95, Endless.com.
Our Take:
Muller did a great job finding three looks that accurately reflect the trend at different prices. While we'd never shell out nearly $2,000 for the look, the Louboutins are unfortunately the only pair in the bunch that don't scream "streetwalker" to us. These boots may be styling, but we doubt it's a trend that Washington will be fast to embrace.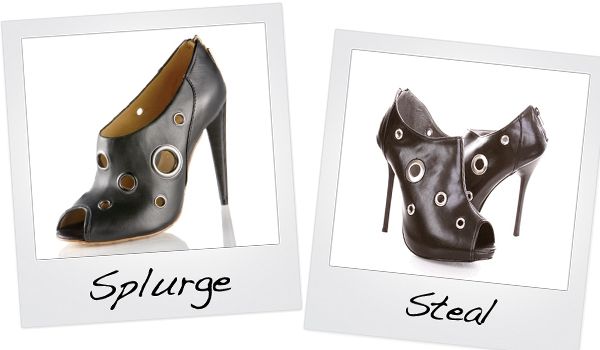 Trend 2: Peep-Toe Booties
"If you're not quite ready to hide away your pedicure, peep-toe ankle boots are the perfect transition shoe," says Muller. While it's still warm outside, sport a pair with bare legs. And when temperatures drop, just slip on a pair of tights to instantly winterize your look. What should you wear them with? Shorts, pegged jeans, dresses—absolutely everything. And unlike the over-the-knee boots, no ThighMaster is required. The cutouts and hardware detailing make the bootie trendy without trying too hard. You can easily wear them to work on K Street and then strut in them for a night out in Georgetown. Steve Madden is my usual go-to for faux fabulous replicas, but at $23.99, compared with $355 for the designer original, Ami Club Wear is my new frugal favorite."
Splurge:
L.A.M.B. Raina grommet bootie, $355, Cusp.
Steal:
Faux-leather peep-toe bootie pump, $23.99, Ami Club Wear.
Our take:
We loved our booties last season, and it's a thrill to see them back on fashionable feet this fall. In this case, the lower-priced shoe would look chic on a younger fashionista—for evening only, however. We disagree with Muller that these shoes can be worn to work (unless you're pairing them with a very subdued outfit), but we love her "steal" pick—and its price.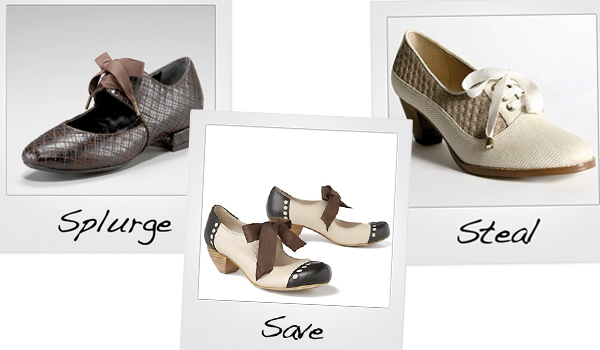 Trend 3: Oxford Education
According to Muller, "oxfords are about to be the next big thing in footwear for fall. The classic version is a solid colored lace-up inspired by a man's dress shoe, with a perforated pattern on the toe known as a wingtip. But thanks to the enduring menswear-inspired look sparked by Mad Men, the modern oxford—or brogue if you want to be posh—is colorful and comfortable, a welcome evolution from the ubiquitous ballet flat and another great in-between-seasons option.
"The emerging styles are classic but contemporary. Think Don Draper meets Flashdance with punches of color and girlie-girl flourishes. I love the idea of taking a manly shoe to a sweet, feminized place with satin bows and pretty patent finishes. I haven't seen too many of these around town yet, so get them early to show how fashion-forward you are."
Splurge:
Maloles quilted oxford Mary Jane, $375, Bergdorf Goodman
Save:
Scarf-tied oxfords, $128, Anthropologie.
Steal:
Contributor by Rachel Comey oxford, $78, Urban Outfi
tters.
Our take:
What fun! We hope this update on a classic pick will go over well with Washingtonians this fall. It's a trend piece that will take some specific styling on top to avoid fashion mishaps, but the look can be easily accomplished by wearing a more ladylike silhouette with it. We'll be buying the Anthropologie pair—they're cute without being kitschy.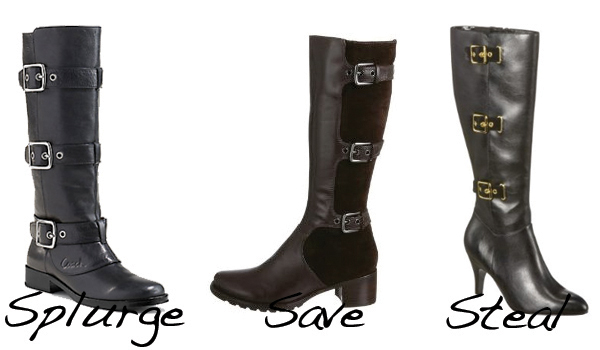 Trend 4: Make Mine Moto
Says Muller: "Even if your style is more Upper East Side than Easy Rider," your inner motorcycle girl will be tempted by the biker-chic look. Bonus: no helmet hair. Studs, straps, zippers, buckles, and steel toes all give this classic silhouette a bad-ass vibe that'll definitely show everyone who's boss. I love that you could wear these in the back of a Bentley or a Harley-Davidson. They're sophisticated but with an attitude."
Splurge:
New Jordan boot, $378, Coach.
Save:
Ecco Esmeraldas, $109, Endless.com.
Steal:
Merona Collection Rowena tall buckle boots, $44.99, Target.
Our take:
For this boot, the fashionista would have to sacrifice savings for style—our pick would be the Coach pair. That said, they're certainly a steal compared with our personal favorite from this trend: a $1,975 pair from Giuseppe Zanotti for Balmain, available at Intermix.