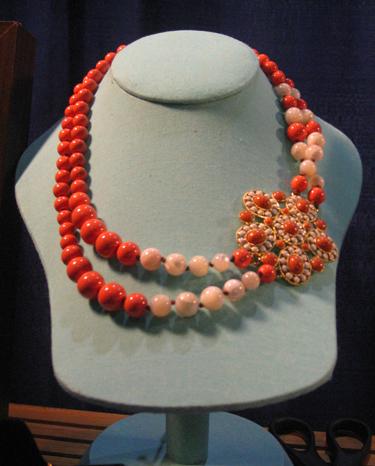 What better way to spend a rainy weekday night than with good friends, free drinks, and more than miniature trunk shows? The Washingtonian headed to DAR Constitution Hall last Wednesday for Shecky's Girls Night Out , a smorgasbord of boutiques, jewelry designers, and food and beauty products. Read on for how to shop our favorite vendors from the evening.
Stella & Dot. There was so much that we loved from this jewelry designer that's a favorite of fashion magazines and celebrities. The sweetly pretty pieces are versatile, trendy, and range from delicate outfit enhancers to impossible-to-miss statement makers. We can't wait to incorporate the Ava Cupchain ($44) and Sofia Pearl Bib ($118) necklaces into our holiday-party wardrobe, and the Paige Chandelier earrings ($69) would be a great way to glamorize weekend wear.
South Moon Under. We've been scouring the Web and Washington boutiques for a bib necklace, and we're kicking ourselves for not looking at this boutique. The Beaded Pointed Collar necklace ($40 ) is a total bargain and will work with everything from a black-based work wardrobe to jeans and solid T-shirts. The store also earns points for being one of the few local vendors that carries Nicole Richie's bohemian-tribal House of Harlow line.
Marzee. We were initially drawn to this boutique for its stand-out chunky enamel bracelets, but we quickly fell in love with the workplace-romantic Sheek Blouse ($56) and Balmain-inspired military vest ($49).
Lucid New York. The lariats (which can be work five different ways) at this stall were too fun to ignore. We especially like the Quartz Split necklace ($85) and—as total charm suckers— couldn't resist taking home the Griffin pendant ($45).
More>> Shop Around Blog | Style | Find a Spa