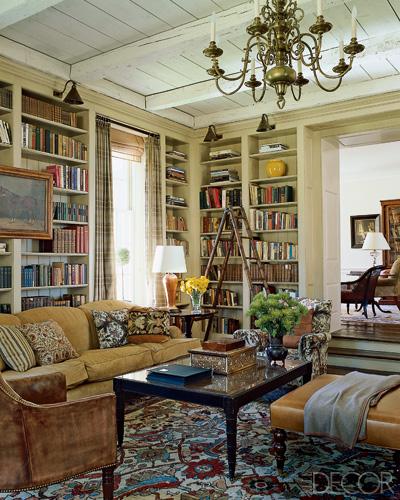 Architectural Digest ranked him of the top 100 designers, Elle Decor frequently looks to him for style contributions, and his celebrity clients run from Steven Spielberg to Cindy Crawford. Hundreds of top-line (and top-price) carpets, chairs, and fabrics have been produced under his name and artistic direction. Going by credentials alone, it seems that interior designer Michael S. Smith—whose timeless aesthetic mixes European traditionalism and American modernism—is the man to be trusted when it comes to luxury living. And the White House agrees: In January, Michelle Obama tapped the California decorator to overhaul the First Family's private living quarters.
On Tuesday, we heard Smith speak to a sold-out crowd at the Corcoran Gallery of Art. Though he mostly kept mum on all things Obama, he did lace many a saucy one-liner through 90 minutes of insight into his work. Read on for the trends we picked up, and you too can bring a bit of presidential luxury to your living room.
Showcase your collections. Love antique vases? Have hundreds old postcards from traveling abroad? We've all got items we own in multiples—why not put them on display? Granted, for Michael Smith's regular clients, that often means hanging an original Irving Penn, Andy Warhol, or Jackson Pollock on the wall, but you can start with something simpler. Rumor has it that the Obamas asked him to incorporate photographs of their Chicago residence into the White House decor.
Personalize, personalize, personalize. Smith is in constant discussion with his clients, often accompanying them on shopping trips all over the world, to ensure that their personal tastes are well represented in the spaces he designs for them. Your home is the last place you should feel like a stranger, but that can easily occur if someone else is in charge of filling it. "It's like buying someone else's sweater," Smith laughed. "It's not going to fit well, and it's probably going to smell like their cigarette smoke." Even if you're looking to completely overhaul your space, make sure pieces from your past find their way into the mix.
There's no such thing as too-luxe wall covers. The most obvious element of Smith's signature style is the attention he pays to the boundaries surrounding his space. "I'm a big lover of the theatrical aspect of wallpaper," he said. He proceeded to prove his affection with slide after slide of one-of-a-kind wall coverings. Some projects worth noting: hand-painted Indian sandstone inscriptions that took four months to put up, paper-thin slices of birch bark pasted onto the walls of a Montana cabin, and the jade-green Chinese silkscreen that encased a ritzy New York dining room.
Pick pieces that last. "I'm always trying to be conscious of the appropriateness of something," Smith said. "Now, of course, but also how it's going to look in the future." Smith's clients are some of the richest people in the world and could certainly start from scratch each time they set down roots in a new home. Perhaps that's why the designer makes a point of turning over signature pieces in as many new decorating schemes as possible, such as the stately dining-room table he incorporated into four different houses for a single client. Sure, it's tempting to head to Ikea because the prices are right and the pieces are easy to transport, but investing in high-quality furniture you love means you won't have to replace it every two years, and it helps establish a base of comfort and continuity when you move to a new home.
Incorporate the two extremes of furniture. Michael's carefully selected sitting pieces fall into one of two categories: completely comfortable and inviting or impossible to take your eyes off of. Furniture such as sofas are often made simply, with wide cushions and nap-inspiring fabrics. Stand-alone chairs, however, are frequently molded into unique shapes, covered in ornate brocades and rich velvets, and carved with lots of detailing in the frames. The careful balance between these two extremes in each of his rooms is what allows Smith's designs to radiate the accessible luxury it's famous for.
Not everything should be uniform. Seamless interior design can leave the effect of living in a department-store bedding display. Sure, it looks great, but there won't be a personality that connects the room to an individual. "I'm interested in a discord. One element should be different, like a characteristic of a person," Smith said. He makes sure always to include a piece or two that breaks from the overall concept.
When in doubt, go international. Smith's travels around the globe have influenced his aesthetic, his international ideas often colliding in spaces with a surprisingly timeless outcome. Past obsessions have included Majorcan textiles, traditional English decor (his own house borrows heavily from Britain), and Parisian sensibilities. In one memorable room, Smith's childhood love of Japanese shoguns was fused with 17th-century Italian architecture stylings. The result? An easy, relaxed quality aided by open lights, jade-green accents, and a striking sense of history.
Vases of flowers are not negotiable. Only the blind would fail to notice plants in every one of Smith's designs. And why not? Fresh greenery circulates oxygen, brings the outside world in, and is an inexpensive way to add something textured and pretty to your space. Plus, while you may be stuck with a sofa until it falls apart, flowers can be traded out with every change of mood.
Same goes for literature. A rich undertone of American academia runs through almost all of Smith's living rooms. While this may be abetted by his love of cedar and mahogany, the decorator's ingenious use of coffee-table books and old novels certainly doesn't hurt. Stacks of books—all varying in sizes—serve as great impromptu display stands for sentimental trinkets and help you remember the contents of your library.

>> Want to see more? Head to michaelsmithinc.com.