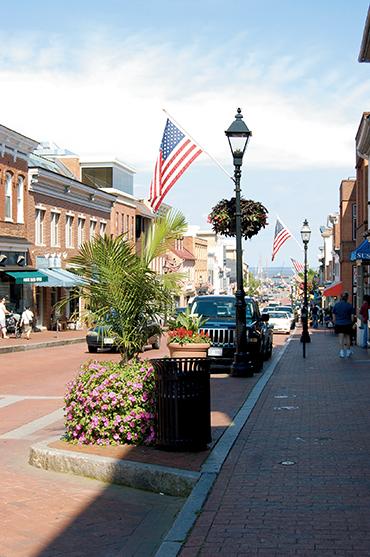 >> See the full Best of Annapolis package here.
Annapolis has always been a popular place to live, offering waterfront properties and historic homes within decent driving distance of both Washington and Baltimore.
But it hasn't been immune to price drops. "The downturn nationally has been so bad that even here the market has softened," says Bob McWilliams, a real-estate agent with Long & Foster.
Average home prices in Annapolis are down by 6 percent from their peak in 2007, McWilliams says. The average sale price for a home in Annapolis in 2009 so far is around $470,000.
While waterfront and historic homes remain sought after, they've also seen some of the biggest price reductions because of overinflation during the boom.
"I'd say waterfront homes have been hit the hardest," says Karlton Morris of Champion Realty. "Something that was $2 million might be $1.5 million now." Still, Morris says, houses are selling: "To get a decent waterfront home, you're looking at between $1 million and $2 million, but you'll get a lot more for your money these days."
Houses are also selling relatively quickly in the historic district, says Annapolis agent Mike Hamby. "We currently have 46 properties available between $425,000 and $5.3 million," says Hamby. Houses there typically start around $600,000.
Several luxury condo developments have opened in Annapolis. The largest is Park Place (5 Park Pl.; 866-413-0840), which has 208 units, about 50 of them still available. Located in the heart of the city, it has an outdoor pool with a sun deck and heated spa, a gym, and a dog park. One-bedroom units start at $335,000; prices go up to around $1.3 million for a three-bedroom split-level penthouse. Most condos come with two parking spaces.
GrandView (1915 Towne Centre Blvd.; 410-268-1798), located farther out in Annapolis Towne Centre at Parole, was completed in May and has 150 units, about half still available. The complex is next to the shops and restaurants of Towne Centre, including the nation's second-largest Whole Foods. There's also a fitness center and a rooftop pool with views of the Chesapeake Bay Bridge. Prices range from $389,000 for a one-bedroom condo to $2 million for a penthouse. Allotted parking spaces correspond with the number of bedrooms.
Across the creek in Eastport, the first phase of converted condos is complete at North Green (302 Hilltop La.; 410-216-9661). The complex will include a pool with a new clubhouse. Several marinas are in the area, and downtown Annapolis is a five-minute drive or water-taxi ride. In addition to the completed units, condos are preselling for an estimated move-in date of April 2010: One-bedrooms start at $200,000 and two-bedrooms go up to $280,000.
Four Seasons at Saint Margarets (1516 Enyart Way; 410-349-1760), five miles from downtown Annapolis, is a community of 15 condo buildings for residents over age 55. About 15 units are currently available. Two-bedroom, two-bath units start at $250,000 and go up to $400,000.
Monticello (2103 George Boiardi La.; 410-224-4440), about three miles from historic Annapolis, has 75 planned home sites, about 20 of which are still available. Single-family homes with four bedrooms and 2½ baths come in five designs and are priced between $485,000 and $555,000.
More>> Open House Blog | Homes | Real Estate