Looks Good to Me
Our crush on Caroline, a Brooklyn-based textile designer, was almost instantaneous thanks to the adorable mix of fashion know-how and watercolor designs featured on her blog. Head to her print shop to purchase ink-and-watercolor creations of dancing girls, fancy feet, and long-lashed redheads—and prints of friends so hip they inspired a Design*Sponge post.
$35 including shipping.
Samantha Hahn
Best known in the blogging world for her surface patterns and the spot-on design picks of her Maquette blog, Samantha Hahn is a definite fashion-inspired talent. Though her Etsy shop features art perfect for the downtown woman (City Amazon, we're looking at you), our favorites—1920s-inspired boudoir and tangled-jewelry sketches—are over at the Shiny Squirrel.
$20 to $35 for prints, up to $80 for original artwork.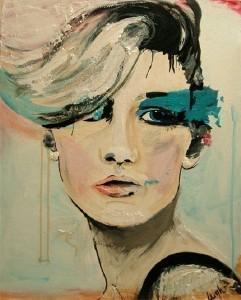 JKLDesign
Leigh Viner's art is utterly seductive. A '70s glam, bad-girl vibe seeps through smoky black eyes in everything from Eiffel Tower posters to Lanvin art prints. We especially love the subtly lascivious glances seen in her Cherry Blossom Girl and Atmosphere prints. All prints are on archival Kodak professional Endura paper, and she often makes just 250 copies.
Prices range from $23 to $28.
PAPERFASHION by Kathryn Elyse
Fashion-blog fanatics will adore this Etsy shop—where else can you find wall art inspired by the virtual personalities of Susie Style Bubble, Tavi the Style Rookie, and Jane Aldridge? Georgetown girls will love her Kate Spade watercolor-and-ink print, and we've already got a frame picked out for the slightly avant-garde L'Etoffe De La Creation, seen here. We were bummed to see that this yellow-hued Sea of Shoes sketch isn't available for purchase, but thank goodness for custom orders—Kathryn will draw your fashion request; e-mail paperfashionart@gmail.com.
$20 per print.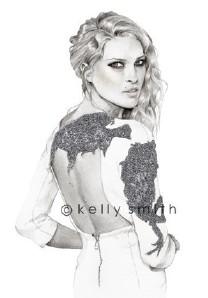 Birdy & Me
The Australian illustrator Kelly Smith's faces are so lifelike you'll swear they're photography. Her editorial sketches, featured in Vogue Australia and Modern Wedding, make use of watercolor, graphite, and digital coloring. She cites ultra-luxe labels such as Chanel and Louis Vuitton as inspiration.
$30 for open-edition prints, $60 for limited.
Subscribe to Washingtonian
Follow Washingtonian on Twitter
More>> Open House Blog | Homes | Real Estate