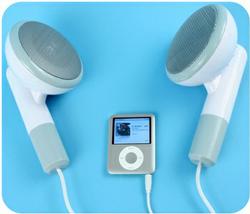 Giant Earbuds
A good-humored necessity for the iGeneration, these super-size iPod headphones plug directly into your music source.
$60 at fredflare.com
Portable Accordion Speaker
Ideal for a cluttered desk or bookshelf, sound plays from this black plastic speaker whether or not it's unfolded.
$21 at kikkerlandshop.com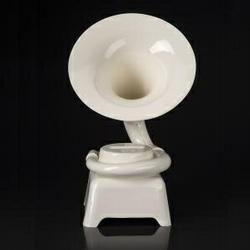 Phonofone II
Believe it or not, this ingeniously engineered amplifier requires no electricity. With a max output of 55 decibels, the sweet ceramic sculpture won't be entertaining your next big party, but it will harness the power of your personal music player and earbuds to provide unobtrusive background noise for the home or office.
$600 at charlesandmarie.com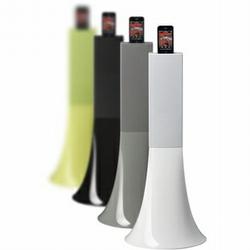 Parrot Zimku Speakers by Philippe Starck
With four color options and charging capabilities, 360-degree surround sound has never looked so good.
$1,600 at ronrobinson.com
Mihoko Ouchi Speak-ers
Forgive the pun: the square speach-bubble shape speaks for itself.
$100 at momastore.org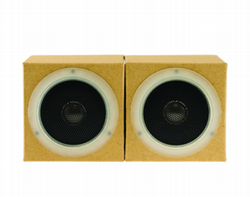 Cardboard Speakers
Humble and sleek, these lightweight collapsible speakers even come with a storage pouch. Boy, the Japanese think of everything.
$38 at muji.us/store