Upper East Side Stationery
Will someone please tell Lady Pym to start making Washington-neighborhood stationery? Sigh. Until then we'll settle for pretending to live a stone's throw from the Met with these well-to-do, bow-tie-inspired notecards.
$170 for a set of 50 at ladypym.com

Tiffany & Co. Stamp Box
Even the plainest stamps feel special when pulled from a sterling-silver cache with the iconic Tiffany logo.
$225 at tiffany.com

Lucite Letter Box
Iomoi lets you choose from a stunning collection of color-drenched, personalized sheets to fit in large and small Lucite letter trays—perfect for holding today's newspaper or yesterday's thank-you notes.
$100 to $650 at shopiomoi.com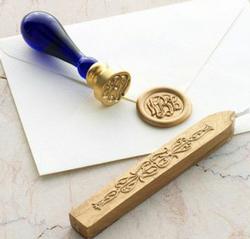 Freund and Mayer Sealing Wax Kit
Because nothing says upper-crust like an extravagant gold seal—especially when your initials come in Tiffany script.
$60 at cambriacove.com
"Manhattan" Bonbon Dishes
What work space is complete without a sweet treat immediately at hand? Serve candy the sophisticated way in an Art Deco-inspired glass lidded bowl.
$184.28 to $201.83 at artedona.com
Tortoise Fountain Pen
Personal correspondence feels ten times fancier when scripted with the smooth flow of a well-made fountain pen.
$89 at levenger.com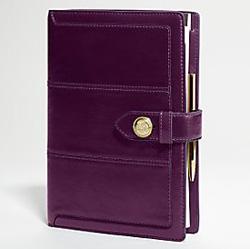 Tribeca Agenda
A luxe leather planner is crucial for keeping track of charity balls and dinner dates.
$198 at coach.com
Henri Bendel Celebration Stripe Candle
Designed with the iconic New York luxury retailer's 100th birthday in mind, Bendel's scented candle—you'll smell ginger, cardamom, and grapefruit—also boasts the store's signature stripes.
$35 at henribendel.com