In honor of this month's Nonstop From Washington guide to Copenhagen, we've set our style radar to Danish detection mode. Didn't know Denmark is world-renowned for the sleek, minimalist look that defined '60s mod? Consider this edition of Design Scout a crash course in the most important pieces.
Royal Copenhagen Fluted Mega Serveware
Every piece produced by Royal Copenhagen—officially Royal Porcelain Factory, founded in 1775 under Queen Juliane Marie—is still hand-painted and marked with an individual serial number. While the national brand is known for its dainty blue trim, we think the modern "Mega" look—which supersizes and off-centers the old style—works much better in 2010.
$110 to 160 at neimanmarcus.com
Odense Poster
This delightfully graphic homage to Hans Christian Andersen's Danish hometown and "Ugly Duckling" fable was originally painted by legendary artist Viggo Vagnby.
$35.65 at dkglobal.dk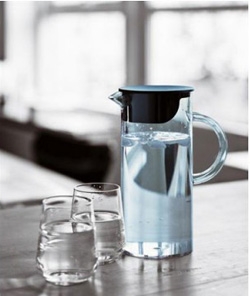 Stelton Pitcher
Designer Erik Magnussen's sleek, streamlined beverage canister speaks to every tenet of true Danish aesthetic. Though typically sold in a bevy of bright colors, we prefer this transparent version for showing off fun summer beverages.
$39.95 at scandinaviandesignhouse.com
Copenhagen Salad Servers
George Jensen's legendary silver can cost upward of $200 for a single set—yikes. Try starting off with a smaller purchase everyone can enjoy, such as these modern-minded serving tongs.
$95 at georgejensenstore.com

The Yolk
A pint-size reproduction of Arne Jacobsen's iconic egg chair for the little one in your life.
$585 at littlenest.com
Subscribe to Washingtonian
Follow Washingtonian on Twitter
More>> Open House Blog | Homes | Real Estate