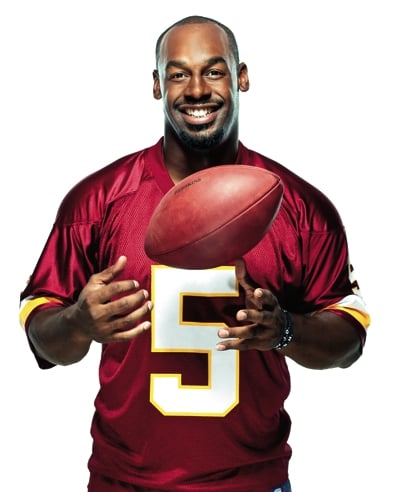 Donovan McNabb's mother was known in professional football circles as "Mama McNabb" even before her popular appearances in Campbell's Soup commercials. She tells this story:
After the Eagles played the New York Giants in a particularly rough game, she approached one of the Giants' defensive players. "Excuse me," she said, "I'm Mama McNabb. Why do you have to throw my son to the ground so hard?"
"Mama McNabb," Michael Strahan said, "that's my job."
After a Dallas Cowboys game, she grabbed linebacker DeMarcus Ware by the arm. "Why don't you tell Donovan to go down?" she asked. "He'll go down."
"No, he won't, Mama McNabb. He's a big man, and I have to do what I do."
In a two-hour interview at Redskins Park this summer, Donovan McNabb talked most often about what his parents told him to do.
"My parents were disciplinarians," he said. "They taught us to dress appropriately, shake hands with a firm grip, look people in the eyes. My dad wouldn't let me walk out of the house unless my shirt was tucked in and I looked presentable."
A few weeks later, at a table at Keefer's Restaurant in downtown Chicago, I ask McNabb's father, Sam, if that's an accurate portrait.
"There was the presumption I was the bad guy," he says. "I'm okay with that."
At 57, he's big and fit and speaks in a deep voice as he tells this story:
One day when Donovan was 13, he stood next to his father and said, "I'm about as tall as you are."
"What does that mean?" his father asked.
"Maybe I could take you."
At which point Sam McNabb stood chin to chin with his son and proved he was still in charge.
"All it took after that was one look," Sam says.
Says Wilma McNabb: "Donovan was our challenge."
Brad Johnson. Jeff George. Tony Banks. Shane Matthews. Patrick Ramsey. Danny Wuerffel. Tim Hasselbeck. Mark Brunell. Todd Collins. Jason Campbell.
Donovan Jamal McNabb.
On Easter Sunday 2010, he became the 11th Washington Redskins quarterback during the Dan Snyder era. The trade from the division-rival Philadelphia Eagles could be a resurrection for a quarterback and a team.
Before McNabb made his first appearance at Redskins Park holding up a number-5 jersey and flashing his sweet smile—the same ritual for which he was booed when he was drafted by the Eagles in 1999—all Washington knew about him was this:
As quarterback of the Eagles, he had beaten the Redskins 11 times, losing 8 times; he and his mother had starred in Campbell's Chunky Soup commercials; and so-called football expert Rush Limbaugh had gotten himself fired from his short-lived job as an ESPN analyst for saying that McNabb the quarterback was blacker than he was good.
In the eyes of some Philly fans, McNabb choked in big games. Though he took the Eagles to a Super Bowl, went to five NFC championship games, set records as the team's all-time leader in career wins, pass completions, passing yards, and passing touchdowns, no matter what he did, it was never good enough. He seemed too happy when the Eagles lost.
The truth is that hardly anybody in Philadelphia knew McNabb and fewer understood him. He is an unangry black man in a business where success is measured too often in violence and volatility.
Now he becomes the focus and fascination of Redskins nation.
"How many starting quarterbacks have we had since 1985?" asks Joe Theismann, the Skins quarterback who led the team to victory in the 1983 Super Bowl. "Twenty-three? Twenty-four?'
Twenty-nine actually played, with 23 of them starting.
"One of the most important elements is being able to hold the job for more than a year," Theismann says, "to give fans a chance to see how you play, how you handle adversity."
McNabb comes to the position and to the nation's capital with some of the same dilemmas that confronted Barack Obama: how to express leadership without anger, forcefulness without shouting, to play within himself. Both men trace their roots to Chicago's South Side, but McNabb's are more authentic and complicated, especially starting when his family moved to a suburban town where blacks weren't welcome. Those early tests helped steel him against racial taunts he has faced during his football career.
For McNabb, the son of a former US Navy senior petty officer, his choices have been informed by his father's example. "I channel my anger," he says. "I try not to bust out. That's not me."
His family is his base, his real constituency. In a series of interviews with McNabb, his parents, and his older brother, a portrait of the son, brother, husband, father, and star athlete begins to emerge.
The Redskins practice facility is rain-soaked and quiet the morning Donovan McNabb comes to talk. He arrives alone. No PR guy, no friends, no bling. He wears a T-shirt, exercise shorts, Nike shoes. He was never pudgy, but he looks particularly chiseled at six-foot-two and 240 pounds.
"I don't see myself as a big star that people have to look up to from afar," he says. "Sometimes people forget we are normal guys with normal lives and normal tastes."
McNabb's taste in music tends toward old-school rhythm and blues. "Earth, Wind & Fire, early Michael Jackson, Al B. Sure!," he says. "The occasional rap." And food? "Seafood, Italian, soul food. You'll see me at local restaurants."
Normal guy.
McNabb has bought a house in Great Falls. He's reluctant to give the exact location. Before a playoff game against the Arizona Cardinals last year, two men burned pro-Arizona phrases into the yard of his Phoenix-area home. His wife, Raquel, and children were in the house.
McNabb has had a place near Phoenix for seven years. He and Raquel, the sweetheart from Syracuse he married in 2003, and their kids—Alexis, 5; twins Sariah and Donovan Jr., 21 months; and Devin James, 9 months—recently moved into a new house they built there.
"They'll be coming up in the fall," Donovan says.
Drafted from Syracuse University in 1999 by the Eagles, McNabb expected to live out his playing days in Philly. He and Raquel put down roots across the Delaware River in Moorestown, New Jersey.
He established a summer training camp for kids. He and his father ran it this summer, as usual. Donovan and Raquel had all four children at the nearby hospital, Virtua; the twins came through the neonatal intensive-care unit. The McNabbs are helping raise $2.5 million for the McNabb Family NICU, scheduled to open next year at the hospital.
Eagles coach Andy Reid and owner Jeffrey Lurie seemed to have unwavering support for McNabb, their franchise player. He earned it. He played in 148 games, completed 2,801 passes for 32,873 yards, threw for 216 touchdowns, rushed for 3,249 yards, and scored 28 touchdowns on the ground.
And there were five NFC championship games and the Super Bowl appearance.
So McNabb was surprised when the trade rumors started bubbling up around the first of the year.
Reid said McNabb would be the team's quarterback in 2010. "I think he's a great player," he told ESPN.
The trade rumblings continued into early spring.
Why trade their star QB? McNabb is in the last year of his contract and would become a free agent after this season. The Eagles didn't want to sign him to a new, long-term contract at age 34, so this was their last opportunity to trade him and get something in return. They also knew McNabb might be past his prime and had suffered two serious injuries: a torn knee ligament and a sports hernia. McNabb looked forward to building his brand, playing for a few more years, and then becoming a broadcaster.
Why to the Redskins, their NFC East rival? Dan Snyder offered Lurie and Reid the best deal. They were willing to risk facing their former franchise player.
On Easter Sunday, he got the word.
"Boom," he says. "I'm traded."
Donovan McNabb comes to Washington at a moment of hope for a political capital that's becoming a more competitive sports town. The Washington Nationals baseball team continues to struggle, but rookie pitching sensation Stephen Strasburg has brought excitement and a fresh sense of possibility. Ted Leonsis, who has turned the Washington Capitals hockey team into a success, has taken ownership of the Wizards basketball franchise and signed number-one hot prospect John Wall.
"McNabb is coming to Washington at the best possible time," says Jeff Fried, a lawyer who represents athletes. "He's part and parcel of an overall positive outlook."
On paper, the positive outlook could extend to the Redskins, who finished last season at the bottom of the NFC East for the second consecutive year. At the end of the season, Snyder fired coach Jim Zorn, gave the gate to head of football operations Vinny Cerrato, and traded quarterback Jason Campbell. He then hired Mike Shanahan, a veteran coach who won the Super Bowl twice with the Denver Broncos. He's brought on Bruce Allen, son of legendary Redskins coach George Allen, as general manager, which might signal that Snyder will let Shanahan coach and McNabb lead.
"Donovan provides the leadership the offense has needed," says Sonny Jurgensen, the beloved former Redskins quarterback and current commentator—and also the last impact quarterback traded from the Eagles to the Redskins, in 1964. "He gives the team confidence," says Jurgensen.
But will owner Dan Snyder give McNabb time? Many fans believe Snyder's impetuous style and thirst for high-priced players have brought instability and defeat to the Redskins.
As Snyder strolls the sidelines during this summer's training camp, I throw him a few questions. Was Donovan McNabb another high-priced purchase along the lines of Deion Sanders, Bruce Smith, and Albert Haynesworth?
"That's just a perception," Snyder says. "I'm not picking players, scouting prospects, watching film. I just write the checks."
In McNabb's case, Snyder is writing checks to pay for the remainder of a $24.5-million, two-year contract McNabb had with the Eagles.
"I've been watching Donovan pick us apart for a decade," Snyder says. "I've always liked him. Now I love him."
On the way out of Philadelphia, McNabb had to absorb a hit from DeSean Jackson, a young receiver who made it to the Pro Bowl thanks to McNabb's passing ability. In a May Sporting News cover story, Jackson said he was happy with the decision to trade McNabb: "I don't think we lost anything."
That had to hurt, but McNabb was used to getting razzed in Philly. Reporters grabbed McNabb after a Redskins practice and asked him to respond.
"It's so wild when people get to talking when you're not there, but when you're there everybody loves you," McNabb said. "I'm a Redskin, no longer an Eagle. I had 11 great years, and I'm moving on with my life, so whoever may say things when I'm gone, more power to them, but it's not making you look like a bigger man."
To me he says: "I'll let you have your moment if that's what you need."
When Rush Limbaugh said the media made McNabb a star because he was a black quarterback, McNabb responded: "My worries were not about what was said but just—what about the people who were watching? . . . What about the African-American homes . . . the kids, the parents? When they hear something like that . . . what do they think?"
So how did McNabb become a man who declines to mix it up with the venomous Philly fans? What's the root of his grace and style, on and off field?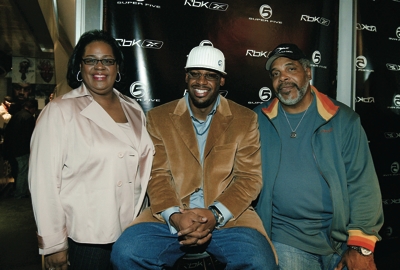 Donovan's mother, Wilma, grew up in Chicago, the only child of Maude and Charles Jenkins. Maude worked the 4-to-midnight shift at a printing plant; Charles worked days at a box factory.
"They came up from Mississippi and met in Chicago," says Wilma. "They worked hard for what they had." They sent her to Catholic schools on Chicago's South Side.
Sam McNabb's father worked in the steel mills. His mom made a home for him and his three brothers and sister, all of whom attended public schools. Sam joined the Navy after high school and did two tours in Vietnam. "We took mortar rounds during an amphibious assignment," he remembers.
Sam and Wilma married in 1973. Sean, Donovan's only sibling, was born that year; Donovan came along in 1976.
Donovan has fond memories of living on Chicago's South Side. "It was fun," he says. "Very diverse. Blacks. Whites. Hispanics. Lotta kids. Some fights."
It was a shooting next door that got Sam and Wilma's attention. It was 1984. Both had gotten college degrees—she was working as a nurse, he was an engineer with the power company. The gunfire was too close, and they looked for a home in the suburbs to raise the boys.
"Dad didn't tell us exactly where we were moving," McNabb says.
His parents bought a house in Dolton, Illinois, about 18 miles due south off Interstate 94. Dolton had been a working-class town in the 1950s and '60s, where union guys raised big families. The McNabbs were among the first African-American families to move in.
"That's what we worked for," says Wilma.
The family pulled up to 15430 Diekman Court and saw the front windows smashed. Sam unlocked the front door, and they walked inside to see that someone had peed on the carpets. "Nigger" was spray-painted on the walls.
Donovan was seven, Sean 11. Both cried. Their parents surveyed the damage and walked back to the car. Donovan remembers looking into his father's eyes with a question: What do we do now?
"We can't let anyone pull us away from our goals," his father said. "Let's use this as a steppingstone to overcome. It will make us stronger."
They cleaned the place and moved in. Wilma had been working the 3-to-11 shift at a hospital. She cut her hours so someone would always be home. "If something did go off, we wanted someone to be around," she says.
One evening when they were having a barbecue with friends in the back yard, someone smashed their friends' car windows.
"It wasn't pleasant," Sam says. "The place wasn't ready for us."
He had just been discharged from active duty in the Navy. He called the Dolton police department to report the vandalism.
"Just kids having some fun," he recalls the officer saying.
Sam McNabb reported the vandalism to the FBI. Federal agents knocked on doors of the McNabbs' neighbors. Soon a few families moved away and the attacks on their property stopped.
Donovan remembers walking down his street, cars stopping, and people throwing things at him. The kids next door used the N-word freely. "If they didn't like the color of your skin or the way you did something, they might start talking trash and then push you around," he says. "I couldn't stand there and take it. There were times I had to stand up like a man. I needed to put my hands on you so you knew I was for real."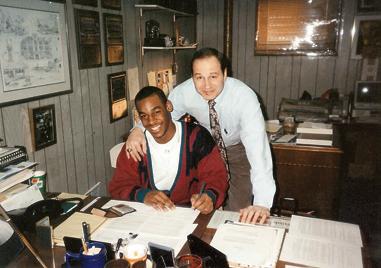 At age 11, the younger McNabb son showed promise on the athletic field. His coach in the Dolton Boys Baseball League asked Wilma McNabb if her little boy could play football.
"No way," she told him. Donovan was too small and slight. Sean had started to fill out and was playing tackle.
"I didn't want Don to get hurt," she says. "The coach kept coming around. I finally gave in."
Donovan started tossing footballs in organized games at age 12. But he always played more than one sport. He would compete with anyone at any game.
"Don had the natural ability to emulate what he saw," his father says.
Sports became his way to break barriers with the neighborhood kids in Dolton. Any game, any court, any time. Sean remembers Donovan playing street hockey with the neighbors.
They called Donovan "Little Sean," much to Donovan's chagrin.
"I'm going to make a name for myself," he said to his parents.
"What are you going to do about it?" his father asked.
"I'm going to be the best basketball and football player in the family. And I'm not going to Sean's high school."
Sean went to St. Francis de Sales; Donovan chose Mount Carmel—after he was recruited by football coach Frank Lenti.
Mount Carmel is in high gear the day I visit Coach Lenti. The gym in a new athletic facility teems with boys attending summer basketball camp. The Carmelite school near Lake Michigan on Chicago's South Side is one of 40 high schools in the Catholic diocese that give kids of all races and classes a boost in academics and athletics.
A big poster of 17-year-old Donovan McNabb looks down on the basketball court: 1994 Hall of Fame.
"We recognized early on that Donovan was gifted," says Lenti, who grew up not far from Mount Carmel and has been coaching there for 26 years. He's taken his football teams to 28 state-title games and won 9.
"He was a long and wiry kid, but you could see the potential once he put on a little muscle," he says. "We thought he might vie for the Heisman Trophy one day."
Lenti recalls an Illinois state playoff game when McNabb dropped back to pass and was about to be sacked by two tacklers. "Somehow he jumped to avoid them, emerged from the pile, and ran 30 yards for a touchdown. It looked like trick photography."
Lenti saw the kid's value beyond throwing and running.
"I would tell him, 'I need you to loosen the troops up,' " says Lenti. "He was very good at it, even if it meant impersonating the coach. Don always had a jovial side."
Too jovial, at times, for Sam and Wilma McNabb.
Sean McNabb played the alto sax; Donovan chose the cornet. The McNabbs rented the cornet. Their son dutifully carried it to and from school; his parents figured he was playing in the band.
The school sent notes home alerting parents to a band concert.
"We went to the concert," says Wilma McNabb. "We sat down, the students filed onto the stage, we couldn't wait to see Donovan. We kept looking. We listened to the first piece. No Donovan."
They found him at home, his cornet in its case by his side.
"Why weren't you at the concert?" Sam asked.
"What concert?" Donovan said. "I guess they didn't tell me."
"I guess you better tell us the truth," his father said.
Donovan had made a trade with the school janitor: If he helped clean the gym, the janitor would play hoops with him. The McNabbs ordered their son to hang up his basketball shoes for six months, and they returned the cornet.
"Don had a mischievous side," says Wilma. "He was always trying to be the comedian to get out of chores. He could be a bit lazy, too."
So Sam McNabb would rustle him awake very early in the morning to complete his chores.
Sean McNabb says he found the key to success at an early age: "If you do what you're asked, you get what you want."
Donovan says Sean was his idol, but he didn't adhere to that motto.
"I did have a lot of lip," Donovan admits.
College recruiters started knocking on the McNabbs' door when Donovan was a junior.
"Quite entertaining," Sam McNabb recalls. One day he picked up the phone and the caller said, "Hi, Sam, this is Tom. Guys from the other coast there?"
Tom as in Tom Osborne, then the coach of the Nebraska Cornhuskers. The school from the other coast was Syracuse, where Mount Carmel coach Lenti had connections to the coaching staff. They ran similar offensive systems.
Donovan was a versatile athlete, and he could have played basketball or many positions on the football field. But he wanted to play quarterback.
At least three colleges—Illinois, Georgia, and Minnesota—told him that the quarterback spot wasn't open to him. He could be a receiver or a running back. Race never came up in the discussions, but it seemed clear that the schools didn't want an African-American calling the plays.
"Who wants to play running back when you've been playing quarterback?" McNabb says. "And playing it well. That's what I was meant to play."
McNabb accepted the offer from Syracuse. It was known for its communications program, and McNabb hoped to become a broadcaster.
"And," says Wilma McNabb, "it had a history of playing black quarterbacks."But by all accounts, he lost most of his lip at Mount Carmel. His father worked security at the basketball games.
Says Lenti: "Sam would always be there if we weren't to take care of any foolishness."
Says Wilma: "He did have to pipe down."
"Mount Carmel challenged me in so many ways," Donovan says. "Academically and athletically. I learned to set goals. I worked hard. I earned a scholarship."
The McNabbs added family financial rewards. They paid Donovan $5 for every touchdown he scored. They made him go to summer school but sweetened the deal by paying him for top grades.
"I'd say that plan worked out," says Wilma.
Wearing number 5, McNabb guided Syracuse to four winning seasons. He set school records. Sam and Wilma McNabb drove or took the train to every home game and flew to many away ones. Sean virtually moved into his brother's dorm: "They thought I was a student."
In his first season, Donovan led Syracuse to a 41–0 trouncing of Clemson in the Gator Bowl. But the videos of the last seconds of a game against Virginia Tech his senior year in 1998 still light up YouTube.
The Orangemen were down 26–22 with less than two minutes left. They were deep in their own territory. McNabb raced 41 yards into Tech territory. He threw a completion to get Syracuse to the one-yard line with a minute remaining.
McNabb threw up. He seemed wobbly on his feet. He dropped back and got roughed by a defender. He dropped back again and got sacked. With five seconds left, McNabb dropped back once more, rolled to his right, and threw across the field to tight end Stephen Brominski, who caught the ball in the end zone. Syracuse 28, Virginia Tech 26.
Syracuse fans mobbed the field. Sam and Wilma were celebrating in the stands. One of the players' moms sitting next to Wilma said, "Let's go on the field." Wilma looked down and wondered whether she could jump the fence. Sam looked away for a few seconds. When he turned back, his wife was gone.
The cameras zeroed in on McNabb around the 50-yard line. A woman had wrapped him in a bear hug.
"I assume that's his mother," the announcer said. It was.
Philadelphia is an intense sports town, and the Eagles are the favorites. In the summer of 1999, fan frenzy focused on the NFL draft.
TAKE RICKY said the headline in the Philadelphia Daily News, as in running back Ricky Williams, a star at the University of Texas. When the team chose McNabb in the first round, vitriol filled the sports-talk airwaves. WIP radio jocks rented a bus to take angry fans to Madison Square Garden for the formal announcement.
An all-white crowd of Philly fans booed as McNabb held up his new green jersey.
In McNabb's first seasons, coach Andy Reid designed a pass-happy offense, but McNabb had neither the offensive line to protect him nor receivers to get open. He wound up running the ball.
Once the Eagles began protecting McNabb in the pocket and got some decent receivers, he led the team to the top of the division. In 1999, he started six games and the team went 5–11. McNabb started 16 in 2000, and the record was 11–5. In his 11 years as team leader, the Eagles had two losing seasons, five NFC championship games, and a Super Bowl appearance.
"Perhaps the most impressive aspect of McNabb's professional résumé is winning consistency without a star-studded supporting cast," says Nunyo Demasio, who wrote a 2006 Sports Illustrated story about McNabb.
Despite his success, Philadelphia fans never embraced him.
"Clearly he was a winner," says Charles Barkley. Now a sportscaster, Barkley was a star basketball player with the Philadelphia 76ers in the 1980s, and he's a student of Philly fans. "He's done tremendous things in the community. He never gets in trouble. But from game to game, season to season, they wanted to replace him. He got booed from week to week. It's the most amazing thing."
Philadelphia Inquirer sportswriter Phil Sheridan covered the Eagles as the beat reporter for seven seasons during the heart of McNabb's years. "I've spent much of the past decade trying to understand the relationship between Philadelphia fans and McNabb," he says. "Philadelphia fans are like those in other cities. Most are fairly intelligent and have perspective. Then there's that percentage that e-mail you constantly and listen to talk radio all day and get loud at the stadium.
Sheridan covered McNabb's media controversies on and off the field, from Rush Limbaugh's comments about black quarterbacks to the griping of former teammates.
"So much of it came out of the blue," he says. "None of these things were brought on by Donovan. It was other people using Donovan for their own agenda, as a whipping boy.
"He never lost because he was not trying or didn't care," says Sheridan. "That should be his defining legacy in Philadelphia."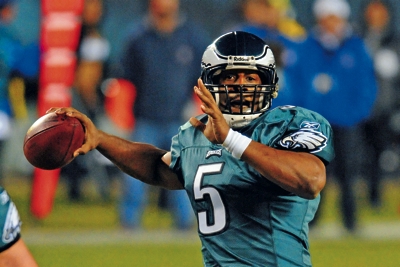 Could the Philly fans' ambivalence about McNabb have something to do with his skin color?
"You want to say no—but it's a legitimate question," says Charles Barkley. "Are they burning crosses in his yard? No. But is there a double standard and a shorter leash for black quarterbacks? I would say yes."
Rush Limbaugh made it an issue during his brief tenure as an ESPN analyst. In a panel discussion on September 28, 2003, he said:
"I don't think [McNabb] has been that good from the get-go; I think what we've had here is a little social concern in the NFL. The media has been very desirous that a black quarterback [be] doing well, black coaches and black quarterbacks doing well. There is a little hope invested in McNabb, and he got a lot of credit for the performance of this team that he didn't deserve. The defense carried this team."
The comment seemed off base. By any measure, McNabb had established himself as one of the premier quarterbacks in the game. In response, McNabb said: "It was somewhat shocking to hear that on national TV. I'm not going to push the race issue. What he's said has been said. . . . I'm trying to figure out why it has even been brought up."
To me he says: "Expending energy to respond to comments like that is a waste."
ESPN fired Limbaugh.
"Nothing new," says Sam McNabb. But the McNabbs will say they are relieved that their son is out of Philly.
"No mother wants to see her son suffer," says Wilma. "He's happy to be a Redskin. We're happy."
In the final minutes of Super Bowl XXXIX on February 6, 2005, the Eagles were down 24–14 to the New England Patriots. With 5:40 left, McNabb got the ball and led the team on a 79-yard drive, hitting Greg Lewis with a 30-yard touchdown pass to cut the Patriots' lead to 24–21.
The Eagles got the ball back for one final drive with 46 seconds left and no time-outs. The Patriots had pinned them on their four-yard line. McNabb couldn't move the ball. The game ended when he threw an interception.
Many Philly fans blamed McNabb for lacking the fire to finish the game with intensity. Rather than whipping his team into a tight two-minute drill, he came off as if he were too tired to go for a last-second win.
"I'm disappointed at how he reacted the last minutes of the game," Philadelphia-born boxer Bernard Hopkins said as McNabb was attending his fifth Pro Bowl game. "If you're sick, take yourself out."
Eagles fans had come to expect McNabb's easygoing style of leadership. He rarely seemed to be in a rush. If the Eagles went three and out, fans would often see him take off his helmet with a smile on his face and a kind word for his teammates.
"That doesn't play so well with fans," says Inquirer columnist Phil Sheridan.
Sonny Jurgensen, wonders, too. "He's always laughing, even when things seem to be going wrong," says the former Redskin. "What's he so happy about?"
Serious Eagles fans had legitimate cause to be disappointed in McNabb's accuracy. He has a strong arm, but he often missed the mark. Open receiver in a crossing pattern? McNabb's pass would hit his shoes or bounce before it reached his hands. Man wide open down the sidelines? He would throw a bomb yards beyond his grasp.
"Great quarterbacks get paid to hit their receivers in the hands," says Lindsey Rose, who's been an Eagles fan since she was a kid; she's now an executive in a music-promotion firm. "When it came to making plays in the clutch, he couldn't get it done."
True, McNabb took the Eagles to five NFC championship games, but he won only one.
"That's why some fans were not that unhappy to see him traded to the Redskins," Rose says. "He's broken their hearts too many times."
So are McNabb's sunny disposition and leadership style effective?
"Being a leader means to me that people around you must have trust in you," McNabb tells me. "If things go wrong, do you point the finger? Or do you step up, act line a man, and say, 'I have to play better—next play, next week'?
"I'm a guy who leads by example rather than talk about it. I want my teammates to go out and be relaxed and have fun. That's when they play their best."
Does a leader have to play drill sergeant at times?
"They come back to the huddle, I say: 'Pick your head up. I'm coming right back to you,' " he explains. "I want these guys to understand we are all in this together.
"In the huddle, we might get in each other's faces. You can argue until you are blue in the face. I'm more into the moving-on thing."
Says Wilma McNabb: "You don't know what's going on in the huddle. You don't know what he says to them."
Jon Runyan knows. Wearing 69 on his Eagles jersey, he was the starting offensive tackle for 9 of McNabb's 11 years in Philadelphia. It was his job to protect the quarterback from marauders such as Michael Strahan. Runyan played 190 consecutive games.
"People have problems with the way Don seems to be laughing it off," says Runyan. "That's the way he gets a bad play out of his head."
Did McNabb ever dress another player down in the huddle?
"He's not the kind of person who's going to put that out there," Runyan says. "Ultimately, you are going to make mistakes on the football field. You have to refocus and think about the next play. People don't realize what a huge chess game we play on the field."
Runyan has retired and is running for Congress as a Republican in Cherry Hill, New Jersey. Was McNabb an effective leader?
"Definitely," he says. "I'm proud to say I was on the team with him as a leader. He was my friend on and off the field. As a lineman, you'll do more for a friend than someone who doesn't like you or criticizes you.
"We spent a lot of time together off the field. The goal of the team is to become a family. When times are tough, the family ties come to the fore.
"We had that—thanks to Donovan."
The last of three mini-camp practices in June are over. McNabb has taken a few snaps, thrown a few passes, handed the ball off, huddled with Kyle Shanahan, offensive coordinator and son of the new coach.
Two young fans stop McNabb on the way to the locker room. Colin Carpenter, 12 and a student at Eagle Ridge Middle School, gets his McNabb jersey signed.
"He's a role model to me," Colin says. "He inspires people to go after their dreams. And he shows you can have fun even though you are working hard."
McNabb started working on his Redskins family as soon as he signed with the new team. In April, he started breaking bread with his new teammates. He showed up at every practice, sweated with them in the weight room.
"He has an aura about him," cornerback DeAngelo Hall says. "With him, you have a chance to win."
McNabb was practicing with backup quarterback Rex Grossman, who led the Chicago Bears to a Super Bowl berth in 2006.
"I was curious to see what he was like," says Grossman. "He's nothing but very professional. A nice guy, fun to be around. You have to be yourself in any sport, any job, life in general. You can't fake it. Donovan is truly passionate about the game, and that comes through."
McNabb invited his receiving corps to Arizona to see what kind of man he is. The crew worked out through passing drills for a week in the Phoenix sun.
"Hell week," McNabb calls it.
The McNabb family likes to vacation together every summer in Costa Rica.
"We play some golf," says Sam.
"We shop, go to the spa," says Wilma.
But there's no vacation this year. Donovan McNabb has devoted his summer to working out in Arizona and moving his family to Great Falls.
"He says he feels like he's been drafted again," his father says. "He's trying to be as successful or better than he was in Philly."
On July 27, rather than meet up to frolic in the sun, the greater McNabb family has gathered in Rosslyn to pitch the DC business community. Mama McNabb, Sam, and Sean have come from Chicago; Raquel McNabb has left the kids in Arizona for a few days. Team McNabb is playing for money.
"How can I help your business improve?" the Redskins' new quarterback asks. He can be seen all over town looking mean in his uniform on posters designed to sell Redskins tickets; here he's dressed in a four-button gray suit with a light-blue windowpane pattern. He's come to sell the McNabb brand.
"It's not just about football," he tells the meeting of executives organized by the Greater Washington Board of Trade. "My thing today is to take the helmet off, take the shoulder pads off, and move more into the business realm and help you guys."
McNabb already has a few endorsements—Nike, Verizon, and AirTran—and his Dr Pepper commercial is on the tube, but he's after equity and partnerships.
"Donovan is committed to the greater Washington community," says Andrew Stroth, the Chicago-based attorney who manages McNabb's business-and-marketing side. "He sees this is a game-changing opportunity on the field and for his brand."
And for good measure, McNabb would like to help First Lady Michelle Obama, another South Side native, sell her exercise initiative.
So Washingtonians can expect to see plenty of the McNabb family along with Donovan. They plan to attend every Redskins game, and they have official roles with the league. Sam McNabb founded the National Football Players Father's Association, and he's still president; Mama McNabb is president of the mothers' association.
McNabb says he wants to win a Super Bowl for the Redskins. A long shot?
"They could come out and shock the heck out of everybody," says Charley Casserly. General manager during the Redskins' glory days, Casserly is now an analyst for NFL.com and CBS Sports. "With McNabb they definitely could get into the playoffs."
That's a ton of pressure for the new guy in town, but McNabb has a higher bar for measuring success.
"I want these years to be times my kids remember their father being very much in their lives," he says. "I want them to say, 'Dad played football, but he still had time to spend with me.'
"And when my playing days are over and people ask them what it's like now that their dad is no longer in professional football, I want them to say, 'My dad has always been here.' "
As Sam and Mama McNabb were always there for him.
A Philadelphia native, national editor Harry Jaffe (hjaffe@washingtoninan.com) has covered Washington politics, crime, media, and sports for 25 years. He has been an Eagles fan since attending their 1960 championship-victory game.