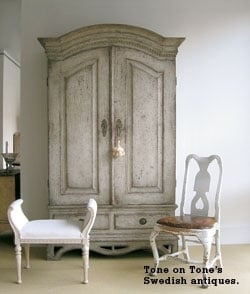 >> This article is an excerpt from Where Did You Get That?, a home design guide printed in the August 2010 edition of The Washingtonian. To view 40 more places to get distinctive furnishings, click here.
Côté Jardin Antiques. 3218 O St., NW; 202-333-3067. The mainly French, mostly garden antiques shop is a product of its owners' passion for both gardening and decorating their homes in DC, Charlottesville, and Provence. Their home in France happens to be near a big antiques district, so they became dealers.
Darrell Dean Antiques. 1524 Wisconsin Ave., NW; 202-333-6330. Darrell Dean doesn't discriminate: His wares range from the 18th century through the 1980s. He's got a hunch that people are going to start embracing their suburban roots—"growing up with a mix of new, borrowed, and Grandma's furniture." Tastefully, of course.
Oliver Dunn, Moss & Co., and Catharine Roberts, 1657 Wisconsin Ave., NW; 202-337-0540. Three stores of accessories and accent furnishings fill one space in this tiny rowhouse: Jackie Oliver Dunn has a great eye for textiles and tabletop; Catharine Roberts designs French-country farm tables; and Moss & Co.'s Moki Heston is known for her charming topiary garden out back.
Random Harvest. Georgetown, 202-333-5569; Alexandria, 703-548-8820; Arlington, 703-527-9690; Bethesda, 301-280-2777. Owner Beth Aberg says her stores are true to their name: a random harvest of vintage, antique, and new finds, which changes all the time. When the stores buy vintage upholstered items, they rebuild them from the inside out, and customers can choose the new fabrics.
Tone on Tone. 7920 Woodmont Ave., Bethesda; 240-497-0800. The store's name reflects the pale hues on its owners' favorite painted Swedish antiques. Loi Thai and Thomas Troeschel also shop across Europe for their signature light-colored pieces, which are intended to blend with the darker furniture in traditional Washington homes.
Verdigris Antiques & Interiors, 1215 King St., Alexandria; 703-505-9970. Owner Ursula Baukol has traveled the world with her husband thanks to his job at the Treasury Department, and customers can see the fruits of those sojourns in constantly changing displays. She also features a great variety of art and vintage lighting, even some vintage clothes.
Subscribe to Washingtonian
Follow Washingtonian on Twitter
More>> Open House Blog | Homes | Real Estate