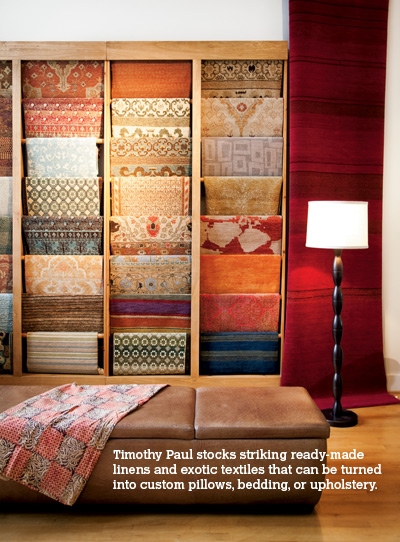 >> This article is an excerpt from Where Did You Get That?, a home design guide printed in the August 2010 edition of The Washingtonian. To view 40 more places to get distinctive furnishings, click here.
Blissliving Home. 866-952-5477. Mei Xu developed the idea for a bedding collection during her travels to promote her other company, Chesapeake Bay Candle, because she found herself bringing her own high-quality sheets to hotels. Each graphic, colorful line from the Rockville-based Internet retailer refers to a domestic or global destination.
C.G. Coe and Son. 4905 Del Ray Ave., Bethesda; 301-986-5800. Many rugs here come in custom sizes and colors, but the real value is in the service, Charles Coe says. He asks plenty of questions to make sure customers are getting the right type of rug for each space, and then a salesperson goes to every installation and follows up several times.
La Musa. 5345 Wisconsin Ave., NW; 202-537-5000. The store, whose name is Italian for "muse," primarily sells custom rugs. Owner AnnMaria Baldine also features art, craft pieces, and furniture of her own design, and each element complements the others.
Mill End Shops. DC, 202-537-8966; Arlington, 703-578-0677; Fairfax, 703-425-4887; Rockville, 301-881-6585; Annapolis, 301-261-8175. Elliot Breslau's grandfather was on his way from Connecticut to Florida in 1933 when he got off the train at Washington's Union Station and never left. What started as piece goods and remnants has evolved into a full custom operation for upholstery, window treatments, and bedding.
Rockville Interiors. 4 W. Middle La., Rockville, 301-424-1900; 2418 Linden La., Silver Spring, 301-585-0330. The 39-year-old shop produces "anything made of fabric for the home," says Ilan Fulop, who runs it with his father, Tom Fulop. They're best known for their range of traditional and motorized window treatments.
Timothy Paul Carpets & Textiles and Timothy Paul Bedding & Home. 1404 14th St., NW, 202-319-1100; 1529-A 14th St., NW, 202-234-2020. Timothy Worrell and Mia Backman Worrell started with a shop selling made-to-order rugs and textiles. Soon customers began asking to have the textiles made into bedding or upholstery, and they also liked the furniture in the store. Thus, the Bedding & Home shop was born a few doors down.
Valerianne. 111 Church St., NW, Suite 201, Vienna; 703-242-1790. Aimee Wedlake's shop has become a destination for high-end bedding. She first asks customers about their style preferences and how they sleep; then she pulls sheets, pillows, duvets, and blankets from different lines to create a custom look.
Subscribe to Washingtonian
Follow Washingtonian on Twitter
More>> Open House Blog | Homes | Real Estate