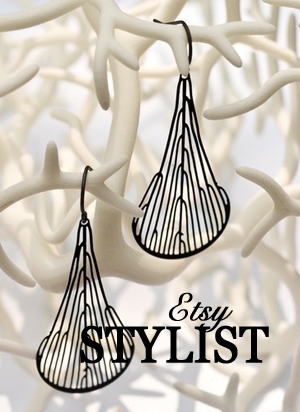 Lush blackberry studs bring you a touch of summer. Iacua, $86.
These bright-green ginko earrings have an adorable ladybug accent. Patrick Irla Jewelry, $176.
Cast-silver cedar sprigs are seasonally appropriate and stunning. ES Designs, $58.
Nervous System uses computer simulations of leaf growth to create its styles. Dichotomous earrings (pictured right), $25.
An abstracted lichen pattern on sterling studs is surprisingly pretty. Kristin Coffin, $130.
Carved-petal earrings from Amie Plante are available in matte or patina sterling. $160.
Subscribe to Washingtonian
Follow Washingtonian on Twitter
More>> Shop Around Blog | Style | Find a Spa