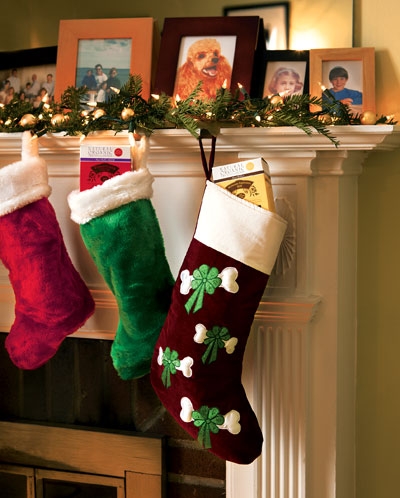 Every other Saturday, Kristina Robertson whips up "Chi-omelets"—egg whites, pulverized dry dog food, chopped garlic, carrots, and green beans—for her Chihuahuas: Tasmania, Gigi, Cocoa, and Gabby.
"All four come into the kitchen, sit side by side, and wait," says Robertson. "If I have to get in the refrigerator, they move to the side. If I need the sink, they move again. But they all stay in a little line."
Robertson—who owns Barkley Square Gourmet Dog Bakery & Boutique in Alexandria's Del Ray neighborhood—pulls out all the stops when the holidays roll around: mashed potatoes shaped like Frosty the Snowman (with peas as eyes), yogurt-frosted tree cookies strung with fire-hydrant ornaments. While Robertson cooks, she says, "Gabby will stand on her hind legs and turn in circles."
Baking pet treats at home is easier than it sounds, according to Eve Adamson, author of Chow Hound: Wholesome Home Cooking for Your Doggie. Many recipes call for ingredients you may have in the kitchen. Her instructions for Mutt Macaroons: Whip three egg whites and a half teaspoon of cream of tartar until they form stiff peaks, then fold in a quarter cup each of finely ground almonds and shredded unsweetened coconut. Bake the teaspoon-size macaroons at 350 degrees until golden brown, usually about 12 minutes.
Cooking at home gives you greater control over your dog or cat's diet—you can avoid white flours and sugars and use whole grains and meat or vegetable purées. Adamson's Christmas Mincemeat Muffins call for the zest and juice of one lemon, a cup of chopped cranberries, two chopped apples, a cup of minced cooked beef, a half cup each of mashed sweet potatoes and molasses, one cup of whole-wheat pastry flour, and a half teaspoon each of baking soda and cinnamon. Mix, spoon into muffin tins, and bake at 350 degrees until golden brown, about half an hour.
Some seasonal foods have health benefits for pets—sweet potatoes and pumpkins help with digestion—so you might want to consider Fido or Fluffy when deciding what to do with leftovers. When in doubt, add in peanut butter for dog treats and chunks of fish for cats. Spices such as garlic should be used in moderation; chocolate, raisins, coffee, onions, grapes, and macadamia nuts are potentially toxic.
Pet owners without a moment to spare during the holidays can buy healthy treats made by local bakers. The Arlington company Max & Ruffy's offers organic, vegan dog treats in flavors that take a page from seasonal dinner-party menus: Molasses Explosion 1919 is made with coconut oil, brown-rice and whole-wheat flours, sunflower seeds, and blackstrap molasses; the ingredients for Mother Quinoa's Pumpkin Patch biscuits ($6.50 for mini-bites, $9.50 for regular size) includes pumpkin, brown-rice flour, cinnamon, nutmeg, and cloves.
"The stronger the smell, the more the pet is going to love it," says Robertson, whose top seller for cats is a salmon-and-tuna-filled cake. Her all-natural holiday meals ($18) include chicken tenders and cranberries.
Whether baking or buying, you don't want your pets to binge on gingerbread cookies while you're busy wrapping presents. The holiday crunch can stress animals out, too, so don't let them eat too much. "Just remember it's a treat," says Robertson. Vets say you should aim to give a pet no more than 10 percent of its daily calories from treats—for a dachshund, that's one tiny biscuit a day.
"If you love to bake, this gives you an excuse without the temptation of sweets," says Adamson, "because you probably won't be eating those chicken-liver cookies."
For more holiday recipes for pets, see Chow Hound: Wholesome Home Cooking for Your Doggie by Eve Adamson, The Organic Dog Biscuit Kit: Christmas Edition by the Bubba Rose Biscuit Company, and Real Food for Dogs: 50 Vet-Approved Recipes for a Healthier Dog by Arden Moore.
This article first appeared in the December 2010 issue of The Washingtonian.
Subscribe to Washingtonian
Follow Washingtonian on Twitter
More>> Open House Blog | Homes | Real Estate