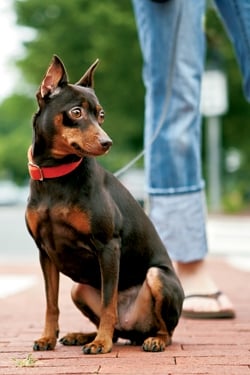 When I get out her leash, my miniature pinscher, Scout, runs around the apartment. When I take the car keys off the hook, she jumps. And when we get close to the car, she yips with joy. That's how a recent outing to Del Ray began. I was writing about dog-friendly shops, so I took Scout along for the ride.
We started the day with a few laps around the dog park at Eugene Simpson Stadium Park (E. Monroe Ave. and Route 1). After checking the fence for gaps—I've learned the hard way that Scout is an escape artist—I let her off the leash to play with a boxer, a German shorthaired pointer, and a half dozen other pups. Like most min pins, Scout has no concept of her size. At 12 pounds, she runs and tumbles with almost any dog and loves being chased.
The park is no place for those who don't like the sun. There's a water spigot for dogs to get a drink but only a few small patches of grass—the park is mostly gravel and dirt—and very little shade. After about 15 minutes, I could see Scout was ready to go.
We hopped back into the car and drove a few blocks to Del Ray's main commercial strip, Mount Vernon Avenue. Our first stop was Bungalow Homewares Gallery (1901-A Mount Vernon Ave.; 703-299-8899; bungalowhomewares.com), a boutique stocked with stylish, eco-friendly pieces for the home. Despite the look-but-don't-touch feel, the sign outside said dogs were welcome.
While I browsed the shelves of organic-cotton sheets and fair-trade dinnerware, Scout tried to curl up on the couch for a nap—that's okay at home, so I couldn't blame her for trying. Though the owner was gracious, I decided to come back when I had more time to browse alone. I had my eye on a set of glasses made from recycled Sol and Red Stripe beer bottles ($9 each)—a great gift for hard-to-shop-for dads, husbands, or boyfriends.
Our next stop was Kiskadee (2205 Mount Vernon Ave.; 703-549-0813; kiskadeeshop.com), a New England–style boutique—perfect for women with Lilly Pulitzer sensibilities. The silk Milly dresses and displays of silver baubles didn't seem particularly dog-friendly, but the employees made us feel welcome. While I browsed the pretty purses, jewelry, and scarves, Scout got a belly rub.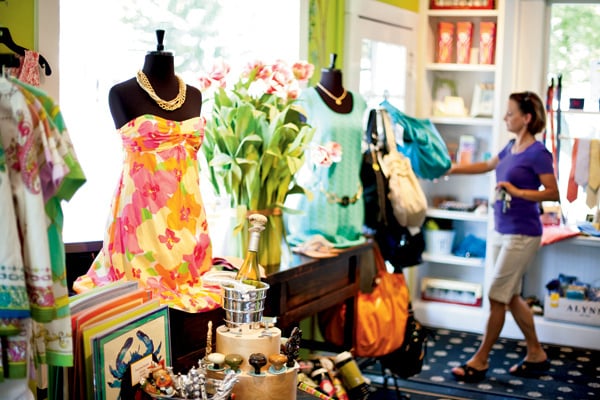 We crossed the street to check out Barkley Square (2006 Mount Vernon Ave.; 703-548-3644; barkleysquarebakery.com), a gourmet dog bakery and boutique. The tiny shop carries frilly collars and pet clothing, but the real draw is the Bark Bar, a display of fresh cookies and treats just for pups. On the first and third Thursday of every month, the store hosts "yappy hour" on the front patio with treats and drinks for dogs and their owners from 6 to 9. I grabbed a free drink coupon and made a mental note to come back.
A block away from the butcher shop Let's Meat on the Avenue (2403 Mount Vernon Ave.; 703-836-6328; letsmeatontheavenue.com), Scout picked up the scent—then dragged me to the doorstep. The store, helmed by butcher Steve Gatward, sells free-range, pasture-fed meat and poultry. Gatward features weekly offerings on his Web site—a recent list included wild-boar chops, Kobe beef, baby back ribs, and duck breasts—but you can also place special orders for more exotic meats such as elk, ostrich, and capon. He takes special care of his canine customers, selling smoked marrow bones for dogs—$8 for big portions and $3 for smaller Scout-size versions.
At Nature's Nibbles (2601 Mount Vernon Ave.; 703-931-5241; naturesnibbles.com), an all-natural pet-supply store, the Do-It-Yourself Doggie Wash was a welcome stop on a hot day. Set up in a fenced side yard adjacent to the shop, the wash station includes a standing tub, hypoallergenic shampoo, temperature-controlled water, and towels. At just $10 per dog, it was a great way to cool off. I splurged on a hemp collar ($16.95) for a bit of extra pampering.
Scout finally got a treat at the Dairy Godmother (2310 Mount Vernon Ave.; 703-683-7767; thedairygodmother.com). In addition to dishing up delicious frozen custard, sorbet, and ice pops, the shop makes Puppy Pops, frozen treats for dogs made with plain yogurt, peanut butter, and fresh pumpkin or banana. While we sat a bench outside, Scout enjoyed her very first cup of ice cream.
Subscribe to Washingtonian
Follow Washingtonian on Twitter
More>> Open House Blog | Homes | Real Estate