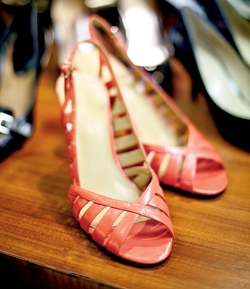 Artfully Paper (2007 Mount Vernon Ave.; 703-778-4440; artfullypaper.com) is a one-stop gift shop. Owned by one of the chocolatiers at nearby Artfully Chocolate, the store stocks smart gift bags as well as wrapping paper, candles, stationery, and some party supplies. The card selection ranges from touching to funny to slightly raunchy, but you can find one for any occasion. Do-it-yourselfers might like the colorful card stock and matching envelopes in the back of the store.
It's easy to miss the basement-level consignment store Labels Exchange (2417-B Mount Vernon Ave.; 703-836-2211; labelsexchange.com), but bargain shoppers looking for deals on clothes, shoes, and accessories should make a stop. The place has everything from vintage eveningwear to tags-on work slacks. A recent visit turned up a black cocktail dress from Bebe for $30 and a plaid Ralph Lauren clutch for $16.50. Sift through the Ann Taylor and Gap labels to find the gems.
Budding ballerinas and girly-girls would have a ball at the Purple Goose (2005 Mount Vernon Ave.; 703-683-2918; thepurplegoose.com). The children's boutique, which carries sizes newborn to 12, is packed with clothes, shoes, accessories, and toys. Frilly tutus hang from the ceiling, and lacy pompom socks are near the front desk. Don't expect many deals, but the shop holds occasional sales.
Subscribe to Washingtonian
Follow Washingtonian on Twitter
More>> Shop Around Blog | Style | Find a Spa