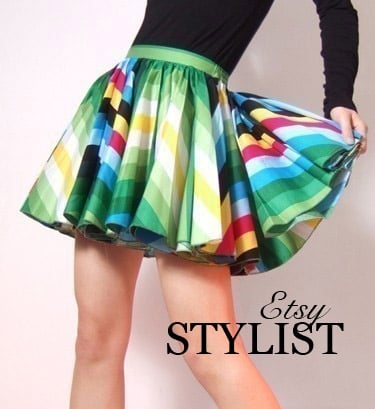 If you're forced to don galoshes in deference to March's moody weather, pair them with a sassy skirt to keep spirits high. (And stash a pair of cute heels under your desk.)
Meet gray days head on with a bright retro print. Aqua floral wiggle skirt. The Greedy Seagull, $34.
A sunny citrus pattern gives you a needed taste of California sun. Lemon-and-lime pencil skirt. Art Effect, $74.50.
This black-and-white wool begs for a vivid blouse on top. Tuck skirt. Kanaro, $60.
Heidi the Artist accents a casual bamboo mini with a design taken from her original painting. Eco Belvedere skirt, $22.
Melissa Tabor pairs tame tweed with a seatbelt waistband for a little edge. Gathered tweed short skirt. $185.
Matches anything? Check. Inspires ear-to-ear grins? Check. Rainbow circle miniskirt (pictured right). YY Studio, $159.60.
Subscribe to Washingtonian
Follow Washingtonian on Twitter
More>> Shop Around Blog | Style | Find a Spa