Of all the sigh-worthy things that come onscreen during an episode of Mad Men, one always stands out to me as particularly unobtainable today: the sheer luxurious square footage of Don Draper's office. Can you imagine what a studio with those views would rent for in modern-day New York? But if we can't luxuriate in Draper's executive suite during the workday, it's easy enough to recreate the sleek, inviting ambiance of his lair in a living room at home. And redecorating is a great way to kill time until next season, which has been delayed by creator Matthew Weiner's acrimonious contract negotiations with AMC.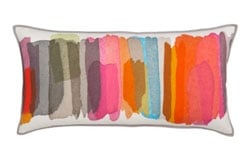 No New York skyline view? No problem. Hang this stretched-canvas print of the Chrysler Building by artist Debbi Granruth level with a window for a tromp l'oeil suggestion of more exciting surroundings outside.
Fine Art America, $165.
Mimic the abstracts on Don's wall by scattering these paint-splashed pillows across your sleek couch. They're perfect bolsters for an evening of television-watching or Manhattan-drinking. CB2, $34.95 and $39.95.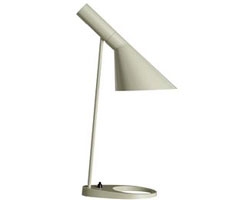 Don Draper actually could have bought one of these minimalist lamps—Arne Jacobsen rolled out the design in 1960. The shade tilts, so you can focus the light on a magazine or illuminate a room. Available in seven colors.
Design Within Reach, $812.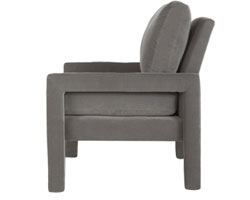 Because we still believe in the possibilities of happy marriages, you'll need someplace to put surprise flowers. This blue Murano-glass vase is a cool accent piece on its own, even when you're not filling it with bouquets.
Novica, $119.95.
The Clarke Chair has all the right angles of Don's low-slung coffeetable chair, but with a fuzzy twist: It's upholstered in an inviting but sophisticated gray velvet.
Jayson Home & Garden, $956.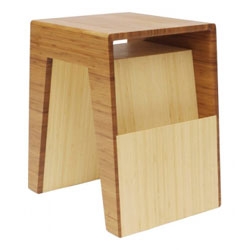 Once you're done reading Ken Cosgrove's "Tapping a Maple on a Cold Vermont Morning" in The Atlantic, save the issue for later so you can say you knew him when in this clever end table.
Design Public, $475.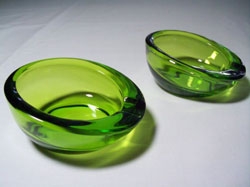 For his-and-hers cigarette habits—or for little hors d'oeuvres after a good scrub—snag a pair of Viking's gorgeous glass ashtrays. The company made many models in many colors, and they're widely available on vintage sites, but we like the cool green and smooth shapes of this set.
eBay, $55
Set your favorite books off from the rest with a pair of teak bookends. Lots of midcentury bookends can be fussy or precious, but the clean lines of these sets will let the volumes shine.
Original Berlin, $81.
Subscribe to Washingtonian
Follow Washingtonian on Twitter
More>> Open House Blog | Homes | Real Estate