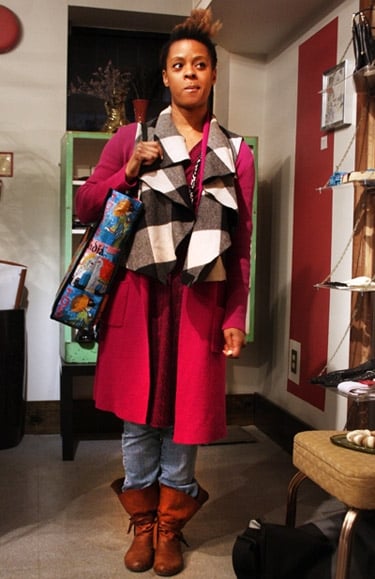 Who: Dana Greaves, 30
Jewelry and clothing designer, Artaya
Where: Ginger Root Design for the "Meet the Artist Night: Introducing Jennifer Jeremias" event.
Tell me about your label. [Artaya was named one of the area's most promising talents in an August 2010 Washington Post Magazine article.]
"Artaya is a women's-wear line, and it's for what I like to call the 'bohemian boss.' It's for a woman who's a risk taker and who balances whimsy and wit."
Do you remember where you got any of the pieces that you're wearing?
"I know my mom gave me two of these pieces. I made the necklace."
Any wardrobe favorites?
"I'm really into bralettes right now. I don't own any, but I'm planning on wearing some this summer."
Who did your hair?
"I did. I was going for a whimsical, braided look."
Any upcoming events for Artaya?
"On April 14, my line will be featured at 'Fashion: District,' which is taking place at Longview Gallery. It's hosted by ReadySetDC."
Brooke says:
Dana's cool vertical hair and the colorful graphic elements of her outfit exemplify the bright and bold aesthetic she goes for in her designs.
Subscribe to Washingtonian
Follow Washingtonian on Twitter
More>> Shop Around Blog | Style | Find a Spa