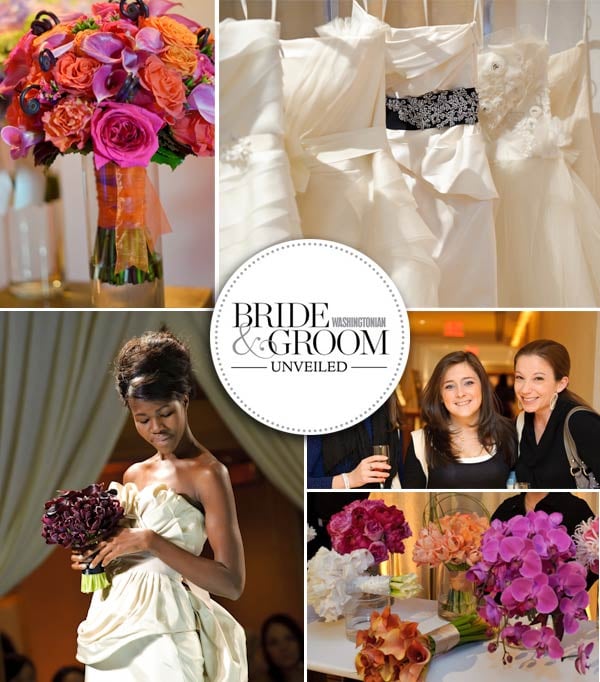 All photos by Wedding Photojournalism by Rodney Bailey; floral design by Multiflor.
Brides- and a few grooms-to-be packed the Park Hyatt Washington last Saturday for Unveiled 2011, Washingtonian Bride & Groom's third annual wedding showcase. This intermingling of Washington's best wedding vendors, Washingtonian staffers, and hundreds of rosy-cheeked, newly engaged couples is something we look forward to every year, and this weekend didn't disappoint. Congratulations are in order to events director Erin Keating, who pulled off her first showcase with panache, as well as her seasoned co-worker Eleni Savopoulos, who hammered out all the details.
This writer's favorite part of Unveiled is always, without fail, the very visual reminder of the abundance of creativity in Washington's wedding industry. From DJs to photographers to florists and event planners, the seasoned experts we feature in Bride & Groom work hard to make every bride's dream wedding come true. That point was driven home during the "Everything You Wanted to Know About Weddings, But Didn't Know to Ask" panel discussions, which were moderated by Bride & Groom editor Jill Hudson Neal. DJ Chris Laich told his audience that the best vendors aren't the ones that impose their "expert" opinions, but rather the ones who make sure you get what you want and know how to navigate any unexpected mishaps on the big day. His fellow panel members, who had been buzzing with advice all session long, were suddenly silenced and simply nodded strongly in agreement.
But that's not all Unveiled had to offer. Additional highlights of the event included a Vera Wang Bridal fashion show, emceed by Kimberly Suiters of NBC Universal, and an on-stage interview with Leslie Milk, Washingtonian lifestyle editor and author of It's Her Wedding But I'll Cry if I Want To. Blue Duck Tavern pastry chef Peter Brett tickled everyone's sweet tooth with pink-lemonade meringue tarts and chocolate-pudding cakes, and the Park Hyatt Catering crew supplied crabcakes, soda floats, and dozens more treats.
Sad you missed out? Sign up for our Bridal Party newsletter for updates on next year's event, then check out the photo recaps below.
>> Photos from the Vera Wang fashion show
>> Participating vendors and photos from their booths
>> Attendees and happy, happy brides-to-be
A look at the Vera Wang fashion show, as well as feedback from the attendees: The participating vendors at Unveiled represent the best of the Washington area. Take a closer look at their work in this short clip: