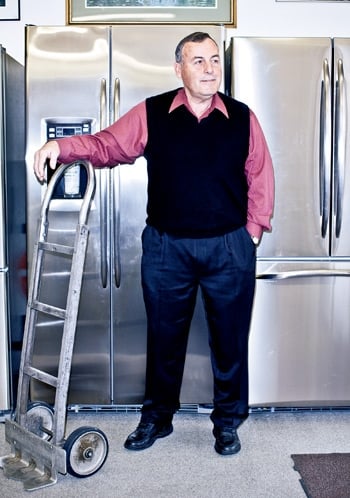 Dabney Wharton, owner of Glebe Radio & Appliances in Arlington, has been selling refrigerators, dishwashers, ranges, and washers and dryers since 1972. Here are a few of his tips for keeping an appliance running longer—and avoiding repairs:
• "The secret with a clothes washer is not to overload it," Wharton says. "Then they'll last a long time."
• "If you keep a refrigerator gasket clean—the rubber piece along the door—then it keeps a seal better and doesn't have to work as hard. A thin film of Vaseline on the gasket will help it seal better."
• If your refrigerator has an icemaker you hardly use, empty out the ice weekly to avoid problems with the lines.
• New energy-efficient dishwashers don't use as much water or let it get as hot as older dishwashers. Give water temperature a boost, Wharton says, by first running the water in the sink until it gets hot, then turning on the dishwasher.
• When is it time to replace versus repair an appliance? "If it's more than 10 years old, you might flip a coin about getting an estimate on a repair," Wharton says. "Appliances used to last 15 or more years; now they last 10 to 12. These days, they all have electronics that don't last as long. They have to be more energy-efficient, and to do that they don't last as long. Ranges last the longest, dishwashers probably the least."

This feature first appeared in the March 2011 issue of The Washingtonian.
Subscribe to Washingtonian
Follow Washingtonian on Twitter
More>> Open House Blog | Homes | Real Estate