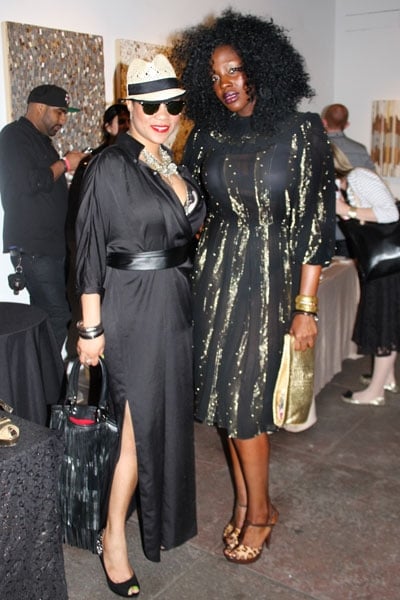 Who (left to right): Aisha Keys, 33, and Sheelah Prince, "20-plus"
Where: Longview Gallery for Fashion: District

What they're wearing:
Keys is sporting vintage jewelry, jewelry by Tiffany's, a Gap hat, and Sam Edelman stilettos. Prince is wearing a vintage dress, Jessica Simpson shoes, a Bebe clutch, and self-designed jewelry.
Sheelah, are you a jewelry designer?
"Oh, no, this is just for me."
Are you ladies involved in the fashion industry?
Keys: "I'm a wardrobe stylist. I specialize in vintage."
How did you get into that?
Keys: "Because I'm busty and have a small waist and no hips, I could never go into a store and find anything that fit. So I ended up altering everything contemporary I wore. Eventually, I discovered the lady dames of the '40s, '50s, and '70s—what they wore works on me because they had higher waistlines and lower hemlines. I've become a walking billboard for [their style]."
Any exciting projects coming up?
Keys: "I'm working on Howard Cromwell. He's the host of Being Fabulous Rocks, which is coming to Washington TV this summer. I'm the creative director on set as well."
What about favorite vintage shops?
Keys: "Yeah, mine! Crazy Chameleon Studio. I also shop at Annie Creamcheese in Georgetown."
Prince: "Eastern Market."
Brooke says: Given that "Fashion:district" was promoted as a chance for DC's "500 most stylish people" to get together for a night, it was difficult to pick a favorite look from the sea of fabulousness. But once I found out that these ladies in black shared my interest in vintage, I knew I had to take their picture.
What do you think of the look? Sound off in the comments!
Subscribe to Washingtonian
Follow Washingtonian on Twitter
More>> Shop Around Blog | Style | Find a Spa