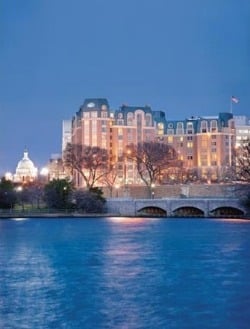 Another week, another incident involving air-traffic control. This time, the First Lady was involved, when the airplane she was traveling in along with Jill Biden came dangerously close to a 200-ton cargo jet at Andrews Air Force Base. The landing was aborted, and the incident, believed to be the fault of a controller, is being investigated. This is the latest in a series of mishaps involving air-traffic control, starting in March when two planes were forced to land themselves at Reagan National Airport after a controller reportedly fell asleep. Experts are denying that these events are symptomatic of a larger problem, saying instead that while they're alarming, the risk of actual catastrophe has been minimal.
Who says summer school is just for kids? Arthur Frommer posted this week about one place adults can head to study in the summer: Marlborough College in England. The private boarding school offers week-long courses in subjects ranging from painting to polo to creative writing, and the cost is around $490 per week, including accommodation. One thing Frommer didn't mention is that Marlborough also has the distinction of being Kate Middleton's alma mater, so you'll be in good company.
Two deals this week, one local, and one not-so-local. If you have family coming to town this summer, or are just desperately in need of a luxurious staycation, the Mandarin Oriental in Southwest DC is offering heavily discounted room rates on selected weekends from now through August. Get a luxurious city or water-view room for $235 a night; a $300 saving from the usual $535 peak rate. The hotel offers a heated indoor pool, an Eastern-themed spa, a gym, yoga classes, and an 18-hole golf course five minutes away, as well as three restaurants: CityZen, Sou'Wester, and the Empress Lounge.
Gate1 Travel has an amazing deal this week on an eight-day, three-city tour of India, offering roundtrip flights from New York to Delhi, accommodation, breakfast, all transfers and travel, an English-speaking tour guide, and a trip to the Taj Mahal for $1,199 per person. The tour spends one night at the Metropolitan Hotel in Delhi, two nights in Agra, and two in Jaipur, and it also includes an elephant ride. The cheapest dates are available in August and September; additional fees of up to $290 may apply. See Gate1 Travel's Web site for more information.
And finally, CNNGo, the cable news channel's guide to Asia's biggest cities, published this list of the ten most boring things to do in Singapore on Tuesday, which is actually very funny. What are the ten most boring things to do in Washington? Let us know in the comments, and we'll work on compiling a list for next week.