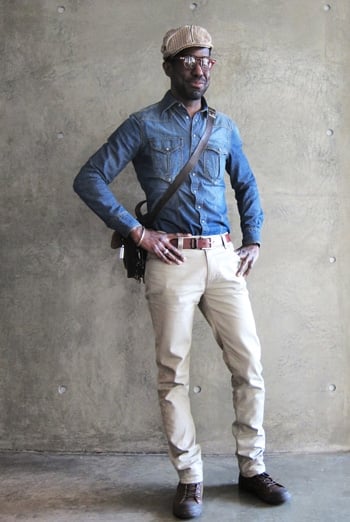 Who: Eric Brewer, 42
Where: American University second-year MFA show.
What are you wearing today?
"Levi's [pants], which I'm absolutely in love with; a denim shirt that I try to wear this time of year; my 'attitude' glasses; and a leather bag from Morocco."

What do you do for a living?
"I'm known for organizing the DC Tweed Ride." [Click here for more info on the Tweed Ride]
And where did you get the idea for that?
"I first saw it in London, and it blew me away. I thought that DC needed one."
Any favorite places to shop in Washington?
"My current favorite is Dr. K on U Street."
Brooke says: I first decided to photograph Eric because I thought he perfectly exemplified the rugged dandy. Then I found out he's the organizer of DC's dandiest event, and it all made sense. This refined urbanite conveys the look and attitude that the ride is all about.
Subscribe to Washingtonian
Follow Washingtonian on Twitter
More>> All Sidewalk Styles | Style | Find a Spa