1. RUN TOGETHER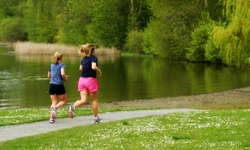 Yes, moms love a good three-mimosa brunch, but the recent arrival of springtime means it's time to get outside. Besides the Mall and the C&O Canal, here are some of our favorite places to go for a jog.
Looking for more of a challenge? Sign up for one of these 5K races or walks:
The Mother's Day 5K Dash is a run through Rock Creek Park. This timed event is the first in a series sponsored by Capital Sprints. Registration is $40. Register at active.com; 8 AM.
The Walk to Empower: Y-Me benefits the National Breast Cancer Organization. The noncompetitive three-mile walk on the Mall aims to honor victims and survivors of the disease as well as promote breast-health awareness. Check-in is at 7:30 AM, and the walk begins at 9.
2. TAKE A COOKING CLASS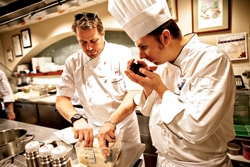 You grew up loving Mom's home-cooked meals, so why not treat her to a chance to hone her skills? Give her a cooking class or take one together—either way, you'll benefit on your next visit home!
L'Academie de Cuisine
At this Bethesda cooking school, choose from demonstrations—where you sit back and watch the pros while sipping a glass of wine and nosh on tastings. There are also participation classes, where students don aprons and make the meal with the help of instructors. On May 7, there's a Mother's Day Lunch ($80) participation class, complete with bubbly. Mom can also learn to make souffles, decorate a cake, and prepare vegetarian dishes from around the world. Make a reservation and see all class options on the Web site.
Sur la Table (Pentagon Row in Arlington)
You and your mom can learn how to make gourmet cupcakes or throw a spring tapas-and-paella party. Take a class on Southeast Asian Street food or dishes made with beer—think a Guinness-soaked burger. Prices range $59 to $79. Make a reservation Sur la Table's Web site.
CulinAerie
There are classes for novices and experienced cooks on topics from specific ethnic cuisines to knife skills to party-throwing to artisanal bread-making. Complimentary wine and beverages are served at most classes. On Mother's Day, class options are Vegetarian Indian and Greek Eats, both from 2 to 5. Visit the Web site for a complete list of classes and to make a reservation. Most classes are $85.
Washington Wine Academy
Find a new favorite wine together during the "Wines of the World" series through June 15. Each installment focuses on wine from New Zealand, South Africa, Chile, and more.
The academy is also home to the DC School of Beer. Classes range from the "1 Hour Beer" school for those who can't tell a Corona from a Guinness to an in-depth tasting of Belgium's lesser-known brews.
3. STROLL TOGETHER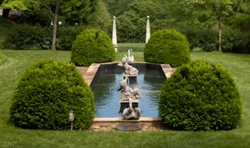 Why not spend a laid-back weekend looking at pretty things? Try a garden tour from a local organization or poke around the DC Design House, which closes May 8. Each of the 20-plus rooms in the Forest Hills mansion were transformed by a local designer.
On Saturday, May 7, the Georgetown Garden Club is sponsoring a tour of nine gorgeous gardens. Expect colorful flowers, beautiful fountains and pools, and majestic trees. Pick out a gift for Mom at the Garden Boutique at Christ Church (3116 O St., NW), which also serves as the meeting point for the tour. Tea sandwiches and sweets are served from 2 to 4. The gardens are open for tours from 10 to 5. Buy tickets ($30 before May 2, $35 after) at the Garden Club's Web site.
The Capitol Hill Restoration Society is hosting its annual Mother's Day House & Garden Tour. Most of the properties are on Southeast Capitol Hill, including the recently renovated Old Naval Hospital plus more than a dozen other properties and gardens, ranging in style from traditional to modern. Tours are offered Saturday, May 7, from 4 to 7, and Sunday, May 8, from noon to 5. Purchase tickets ($25) from PayPal or $30 that day.
4. GO ON A CULTURE DATE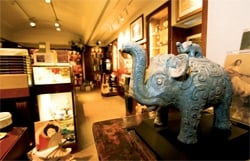 If you prefer the indoors, make a date to check out Washington's many great museums. Mother's Day is the last day to catch Alexis Rockman's "A Fable for Tomorrow" at the Smithsonian's American Art Museum (for more of what's new at area museums in April and May, click here).
Film buffs can catch the latest from Hollywood or an old classic (just don't ask Mom how old she was when it first came out); here's what's playing. Or see who and what is coming to Washington in the next few weeks—we've got a handy list of tickets going on sale[link to most recent tickets round-up].
Mamma Mia! The Italians in DC Festival, celebrating contemporary Italian pop culture, is taking place May 8 at Woodrow Wilson Plaza and the Ronald Reagan Building and International Trade Center. Activities include an art exhibition, winetasting, cocktail hour, and live music. 2 to 9. Free; some activities have an additional fee. For a complete schedule, visit the Italians in DC Web site.
5. GET PAMPERED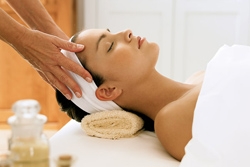 Treat Mom to a relaxing spa treatment—or make a day of it. Do some mother-daughter bonding over facials, mani-pedis, and cucumber water at any of our favorite area day spas.
One example is the luxurious Spa at the Mandarin Oriental, which is offering two specials now through June 30. Get either a Body Revival treatment (60-minute body wrap followed by a 20-minute back-neck-and-shoulder massage) or a Skin Renewal treatment (30-minute body exfoliation and 50-minute Time Reversal facial) for $200 Monday through Thursday and $215 Friday through Sunday. Book at the spa's Web site.
6. GRAB DESSERT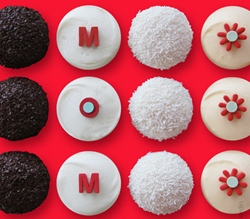 Treat Mom to cupcakes. Georgetown Cupcake is serving up classic vanilla, chocolate, and combinations topped with Mother's Day fondant decorations.
Sprinkles has a "Mom Box" with dark-chocolate, red-velvet, vanilla, and lemon cupcakes. Order from the shop's Web site or visit the new location in Georgetown (3015 M St., NW).
Can't stand the idea of waiting in line? You and mom could also make dessert on your own. Lucky for you, our Recipe sleuth has sniffed out the instructions to some of the best desserts in Washington restaurants. We think these sound especially tasty: Zaytina's Greek Yogurt and Apricot Parfait, Bred & Brew's Olive-Oil Cake, Ba Bay's Coffee Milkshake, Bar Pilar's Buttermilk Pie, Northside Social's Chocolate-Gingerbread Cookies, and General Store's Coconut Cream Pie. For the rest of the Recipe Sleuths, click here.
7. GO SHOPPING

Zachary's Jewelers (100 Main St., Annapolis; 410-269-5080) is hosting a jewelry fair and trunk show on May 8. Moms can browse beautiful pieces and pick up something special for herself, while the kids are entertained by dancers and a special visit from Snow White.
Shop for the perfect Mother's Day gift at Union Temple Baptist Church's (1225 W St., SE) Shopping Bazaar on April 30. Browse jewelry, art, and more gifts. There will also be a DJ, pizza, and door prizes. 10 to 2.
Or why not spend a lazy Sunday popping in and out of stores together? Washington's neighborhoods are filled with dozens of great places to shop. Our favorite neighborhoods to hit are Georgetown, Friendship Heights, and Old Town Alexandria, but every neighborhood has its gems. Check out our complete list of neighborhood shopping guides to determine your destination, grab a credit card, and you and Mom are good to go.
Subscribe to Washingtonian
Follow Washingtonian on Twitter
More>> After Hours Blog | Arts & Events | Happy Hour Finder | Calendar of Events