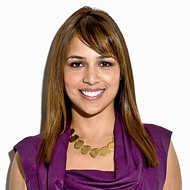 Rojas—who emigrated from Mexico when she was four—remembers her great-grandmother talking about JFK and how proud she was to be a Democrat. That resonated.
Rojas got her start here working on women's policy for California representative Lucille Roybal-Allard. She then worked with Connecticut senator Joe Lieberman on the Senate Homeland Security Committee, where she focused on the intersection of policies to protect Americans' safety and those to protect their civil rights. That interest is still relevant in her role as vice president of government relations for the US Travel Association, where she deals with issues such as airport security. Rojas had a big win in 2010 when President Obama signed the Travel Promotion Act, which seeks to spur more travel to the US. She's now working on improving visa access for international travelers.

This article appears in the June 2011 issue of The Washingtonian.