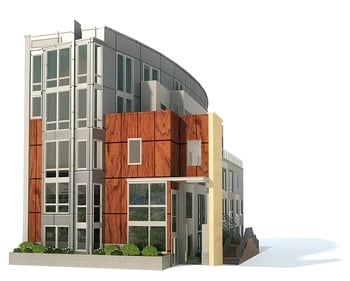 After living in DC's Foggy Bottom for ten years, Kristin Smith was ready for a change. She felt disconnected from other young professionals—her neighbors were mostly college students and retirees, and many of her weekend chores were a 20-minute walk away. She wanted to move to a neighborhood with more urban energy. After a yearlong house hunt, she found what she calls her "dream" condo in a century-old Victorian mansion on 16th Street near Dupont Circle. "Everything I need is within walking distance," says the Capitol Hill staffer. "Restaurants, coffee shops, bars—I love that when I'm home on the weekends I never have to get on the Metro, bus, or in a car."
She also fell in love with the building's history. Its previous owners had plans to tear it down until neighbors rallied and the DC government stepped in to save it. Developers bought and restored the mansion a year ago. "I liked that I could contribute to the integrity of the neighborhood," Smith says.
Here are four new condo buildings in the vicinity with units on the market.
1841 16th St., NW (301-873-3596)
The historic Victorian mansion at 1841 16th St., NW has been renovated into three condos within walking distance of the Dupont Circle and U Street Metro stations. The two-story ground-floor unit, with private parking, is listed for $1.35 million; the top-floor condo, which has a private rooftop with an outdoor kitchen, is on the market for $1.15 million.
Harvard Loft
1466 Harvard St., NW; 202-596-1466.
The Harvard Loft is a five-minute walk to the Columbia Heights Metro station and within walking distance of Adams Morgan. The 12-unit building has one- and two-bedroom condos ranging from $300,000 to $875,000. Units feature floor-to-ceiling windows; the four top-floor units have private patios. Outdoor parking is available for $50,000. Eight condos are currently on the market.
Woodley-Wardman
2818 Connecticut Ave., NW; 202-306-3437.
Northwest of Adams Morgan in Woodley Park, the Woodley-Wardman has 39 units ranging from studios to three-bedrooms. The project is anchored by the facades of four rowhouses that have been gutted and turned into 16 condos. Behind those is a new seven-story tower. Most units have a private balcony or terrace, and all have video doorbells so residents can see visitors before buzzing them up. Prices range from $300,000 to more than $2 million. Nineteen units are available; parking spaces are $45,000 to $95,000.
Caversham Condominiums
1785 Lanier Pl., NW; 202-255-2986.
The 2,000-square-foot penthouse at Caversham Condominiums in Adams Morgan offers views of Washington National Cathedral and the zoo. The $1-million unit has two bedrooms, 2½ baths, a den, and a shower on the terrace. There are also three other condos, each with two bedrooms and two baths, from $575,000 to $650,000. Built into a former house, these units feature exposed brick, a fireplace, recessed lighting, and hardwood floors; each also has its own 150-square-foot back-yard deck. Construction is scheduled to be finished for a June move-in. Two parking spaces will be available, likely priced between $30,000 and $35,000.
This article first appeared in the May 2011 issue of The Washingtonian.